Campfire Biscuits and Gravy is a perfect camping recipe that takes no time and effort. If you're an outdoors lover, this is a meal to make for your next trip. And if you're not-snacks on the go are always necessary!
The best part about this recipe is that it can be customized to your liking. You can use thick cut bacon instead of sausage for a different taste. You can also use the crock pot to cook this recipe, but it will take longer. I've cooked it both ways and both were delicious.
Campfire Biscuits and Gravy Recipe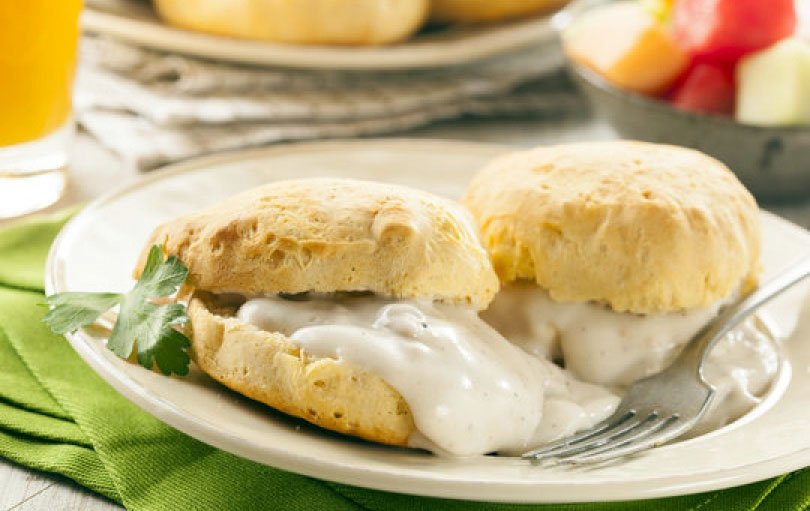 Way No#1
Ingredients:
1 package or tube of biscuits (I get egg roll wrappers at the store)
sausage (I use turkey breakfast sausage)
gravy packets (I buy beef gravy mix, but there are plenty of homemade recipes online)
Instruction:
Preheat oven to 350 degrees (if you're using the oven)
Grill up your sausage. While that's cooking, cut open biscuits and place in a mug sprayed with cooking spray (add more if you like). When sausage is ready, add it on top of the biscuit, then pour the gravy packet into the mug.
Bake for about 8 minutes or until cheese is melted and biscuit begins to brown.
Serve with a side of meat, cheese, fruit and crackers. Enjoy!
Way No#2
Ingredients:
Biscuit:
1 package (3 oz. each) refrigerated crescent roll dough
1 egg
2 cups shredded mozzarella cheese, divided
Gravy:
3 Tbsp butter (1/2 stick)
6 slices bacon, cooked and crumbled (or sausage, etc.)
salt and pepper to taste (optional)
Instructions:
Preheat oven to 375 degrees. Spray a baking sheet with non-stick cooking spray.  [I always use a large cookie sheet for biscuits.]
Combine egg, 2 Tbsp mozzarella cheese and salt and pepper in a small bowl.
Unroll dough; separate into 4 rectangles, firmly pressing perforations to seal. Spread cheese mixture on rectangles to within 1/2-inch of edges.
Cut each rectangle crosswise into 4 squares; place squares on prepared baking sheet. Reroll dough scraps if desired. (I did.)
Bake biscuits 10-12 minutes or until golden. [The center of my biscuit puffed up a lot.] 
While biscuits are baking, melt butter in a small skillet over medium heat.
Add crumbled bacon, salt and pepper and cook 2-3 minutes or until cheese is melted and bacon is lightly browned.
Remove from heat; keep warm.
Remove biscuits from oven and top with cooked bacon mixture.
Serve, topped with remaining cheese, if desired.
These biscuits were so easy to make, and they're great for camping!  They're also very filling for being a breakfast side dish!
See also: Campfire Queso Recipe, Campfire Cake Recipe, Campfire Chicken Recipe, Campfire Cocktail Recipe
Conclusion
My whole family loved this meal. The biscuits are very flavorful, and even the pickiest eater in the world would approve. I served them with some cupcakes I made, but they're completely optional.
This is a low-carb, high-protein, gluten free recipe that can be made in the oven or on the grill. This make ahead keto breakfast satisfies both hunger and cravings. It will also help maintain your weight on keto by keeping you full for longer periods of time. I hope both of the ways is easy for you!
You may like also: