Have you ever had to camp out, but found yourself with a limited amount of cash and food? At least one time in your life, you've probably been faced with this scenario. Well, worry not! Here are 38 super easy and frugal camping meals that will keep the whole family satisfied.
From breakfast sausages on toast to pizza pancakes and corn on the cob, each meal is made from ingredients that are common amongst outdoor cooking tools. The meals are easy to prepare and will not fail to impress. Of course, you may find yourself wanting to bring some more "fancier" food next time you camp out.
The 38 Camping Meals on a Budget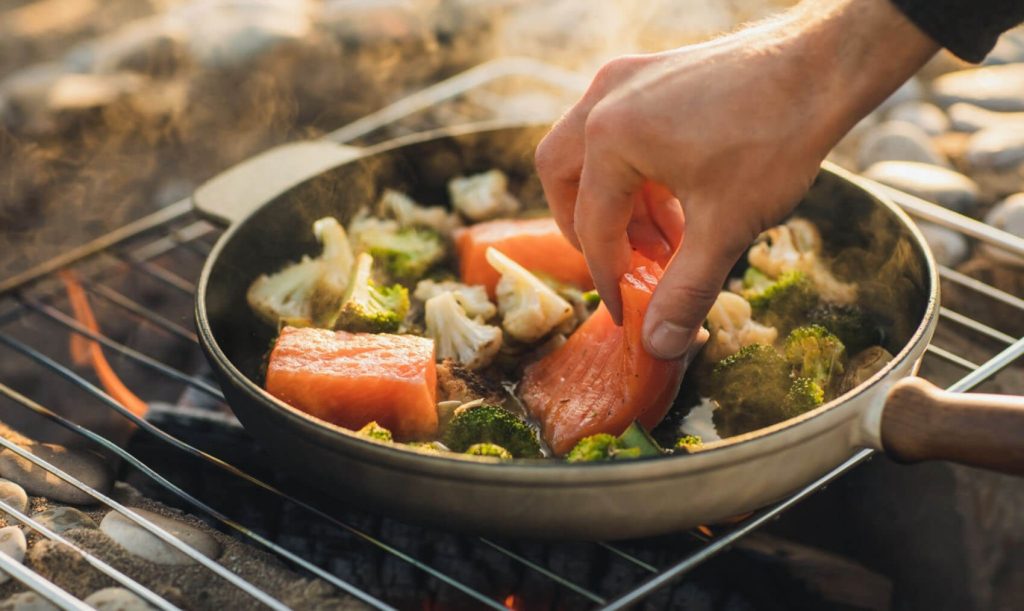 1. Braised Beef and Veggies
Slice up your favorite veggies (onion, bell pepper, mushrooms, etc.) and throw them in a pan with some sliced steak or chicken. This meal is as simple as it is delicious!
2. Sausage and Eggs
For a quick-fix meal, boil up some eggs and cook your favorite kind of breakfast sausage. You can choose what style of breakfast sausage you want to cook, whether it's in patties or links.
3. Corn on the Cob
Roast up some hotdogs and throw them on a stick along with a couple cobs of corn. If you want to get fancy, try splitting the cob down the middle and tucking each hotdog in the hole you created.
4. Bacon and Eggs
For a quick breakfast, cook up some bacon and fry up some eggs.
5. French Toast
The recipe of choice for one of my favorite campfire meals is French Toast. Make sure you keep the French Toast batter to the thick side- it's not necessary to get it too runny. Your guests will be so amazed that you got this fancy breakfast from such humble ingredients! (note: check out the recipe here)
6. Eggs on Rice
Sausage is just one of many ingredients you can use to jazz up a simple breakfast meal. Turn your eggs into something a little more fancy with this yummy rice and eggs.
7. Pancakes
As tasty as pancakes are, they're not very "fancy". This pancake recipe offers up some more healthy options for breakfast (and very little butter or syrup) and adds some adorable tastes with the addition of blueberries and strawberries.
8. Breakfast Biscuit Sandwiches and Sausage Gravy
Get creative with your cooking and put a twist on your typical breakfast routine. In this article, the author cooks up some hearty breakfast sausage sandwiches, but adds some extra flavor by including some gravy on her sandwich.
9. The Breakfast of Champions
This meal is quick to prepare and easy to clean up! Try boiling up a batch of eggs with a bit of Ramen Noodles in the pot.
10. Breakfast Burrito
The best part of camping is the time you get to spend with your family! The breakfast burrito is a meal that can be made quickly and easily in the morning, but is still very tasty. In this recipe, the author uses canned refried beans and rice.
11. Breakfast Sandwich
This meal is super simple: bread, eggs, sausage… what more could you ask for?
12. Pancake in a Cup
For a unique breakfast experience, try this pancake recipe in a cup. Each person gets their own little cup with their pancakes and eggs cooked inside.
13. Hotdogs and Salad Buns
This meal is easy to make! All you have to do is cook up your hotdogs, put out some condiments, and serve. For an extra nice touch, slice up some tomatoes and cucumbers into bite-sized pieces so that people can eat them with their hotdog.
14. Meat and Cheese on Pita Bread
This meal is so easy to make, you'll wonder why you haven't thought of it earlier! All you need are a few pitas, some meats, cheese, and condiments. If you're in a hurry to go camping and you don't have time to cook up this meal beforehand, grab some pitas from the deli at your local grocery store!
15. Chicken Fajitas
These fajitas are a great way to spice up your typical camping meals. For a fun twist on this meal, try serving your fajitas with some salsa or homemade guacamole.
16. Pizza Pancakes
These pizza pancakes are a great way to give your family the taste of pizza without having to go out and buy some "authentic" pizza bread. These pancakes are also a great alternative for breakfast!
17. Meatballs in Sauce
If you've been camping for more than one day, you'll probably want something meaty to eat. Make yourself a batch of meatballs, throw them into a sauce, and serve with your choice of pasta for a meal that will satisfy everyone's hunger.
18. Corn on the Cob
These are easy to make, require few ingredients, and can feed quite a few people. This is one of my favorite camping meals!
19. Meat Lover's Stromboli
This Stromboli recipe is sure to get your mouth watering! A camping trip isn't complete without a nice, hearty meal like this!
20. Sausage Fried Rice
This is the perfect addition to your camping breakfast or lunch! It's super easy to whip up, requiring only one pot and two ingredients.
21. Pesto Pasta Salad
This is another recipe that will definitely get everyone's taste buds going! Throw some pesto on some pasta and serve it up with some other ingredients, like broccoli and tomatoes.
22. Fried Rice
Fried rice is a great camping meal, as it's easy to prepare and easy to clean up afterward. Find the instructions for this fried rice recipe here.
23. Campfire Grilled Cheese Sandwiches
Grilled cheese is a classic breakfast! For a camping twist, you can use your handy-dandy Coleman stove and cook up some grilled cheese sandwiches. I hope everyone can try these out for themselves!
24. Peanut Butter and Jelly Sandwich
This sandwich is an easy way to take lunch to a whole new level! By replacing the bread with tortillas, you can make an amazing sandwich for your family.
25. Camp Frittata
This recipe doesn't call for any ingredients you won't already have around camp, and it's so easy to make! If you're feeling a little more "fancy", you can throw in some fresh herbs or veggies too!
26. American Roast Beef
This sandwich is sure to be a crowd pleaser. If you're having a hard time deciding what to do for dinner at your campsite, try this! It's also an easy recipe to make, as it only requires a few ingredients.
27. Peanut Butter and Banana Sandwich
This sandwich is an easier alternative to the traditional peanut butter and jelly sandwich. This is an easy option for lunch on your camping trip, especially because it's portable!
28. Mexican Hot Dogs
It doesn't get much easier than this! All you have to do is serve up your hotdogs in a tortilla with some salsa and cheese. Grab a corn chip on the side, and you're all set!
29. Chicken Caesar Salad Wraps
This wrap is great for a camping trip because it's easy to make and can be eaten almost anywhere!
30. Grilled Cheese and Tomato Soup
This is definitely a classic campfire cooking meal. Grilled cheese is very delicious, and tomato soup is soothing on a cool day. Grab some crackers, cheese, and soup and you're all set!
31. Corn Dogs
If you're looking for a different kind of snack for your camping trip, try these out! They're simple to make, easy to serve, and are sure to be a hit with your friends and family members!
32. Cinnamon and Sugar French Toast
This recipe will give you the taste of french toast without all of the fuss! This is another breakfast that you can make at home, then pack up and take with you to your campsite.
33. Cinnamon Bun Breakfast Sandwich
For a fun twist on a breakfast sandwich, try adding some cinnamon buns to a bagel! If you're feeling extra hungry in the morning, add some bacon too.
34. Breakfast Burrito
This is a great alternative to your typical breakfast burrito. You can even serve it up in a bowl and spread cream cheese on top if you prefer!
35. Pumpkin Oatmeal Cups
These are another perfect camping breakfast! After you've cooked them up, all you have to do is just pop them into your mouth and enjoy.
36. Cinnamon Roll Breakfast Bake
You can never go wrong with a breakfast casserole-type deal! I'd advise you to serve this with some syrup, since it's slightly different from your typical breakfast sweets.
37. Apple and Sausage Sandwich
This meal is super easy to make, requiring only a few ingredients and minimal preparation time. You can even make extra sandwiches for your friends and family members!
38. Chicken and Spinach Wrap
This is another easy meal that involves a wrap! Throw some spinach, chicken, cheese, and tomatoes inside of a tortilla to create a warm, healthy lunch.
Conclusion
So those are the camping meals I recommend! Hopefully you now have a few options to choose from when you're hungry at your campsite! If you enjoy these recipes, please be sure to share it with your friends and family! Happy camping, everyone!
To read more about this topic, check out these articles:
Questions? Leave a comment below and I'll help you out! I love comments, they make me happy.