When it comes to outdoor cooking, there's nothing quite like a campfire. Not only does it add to the ambiance of a camping trip, but it also allows for delicious meals that are cooked to perfection over an open flame. One of the best ways to ensure a successful camping cooking experience is by investing in a good campfire cooking kit.
People often look for affordable models that perform really well and are lightweight, but the truth is that sometimes paying a bit more for some extra features is worth it. The campfire cooking kit on the list achieves just this. The only difficult thing is finding the right models and brands that fit your needs.
Fortunately, this is the place to learn everything about this topic. What you'll learn:
Guide to choose cooking kit
Best Campfire Cooking Kit Brands
Our 10 Best Campfire Cooking Kits
Essentials for Cooking over an open fire
Ultimate Tips for Camping
Our Top Ten Campfire Cooking Kit Picks
If you're in a hurry, here is our list of the 10 best campfire cooking kits for a faster comparison.
Buying Guide to Choose a Quality Campfire Cooking Kit
Campfires are great fun, especially during the winter. They provide warmth, light, and entertainment. It can be used for lots of different things, including adding memories and spicing up your camping adventures. So, if you are looking for the right cooking gear, consider the following things before having: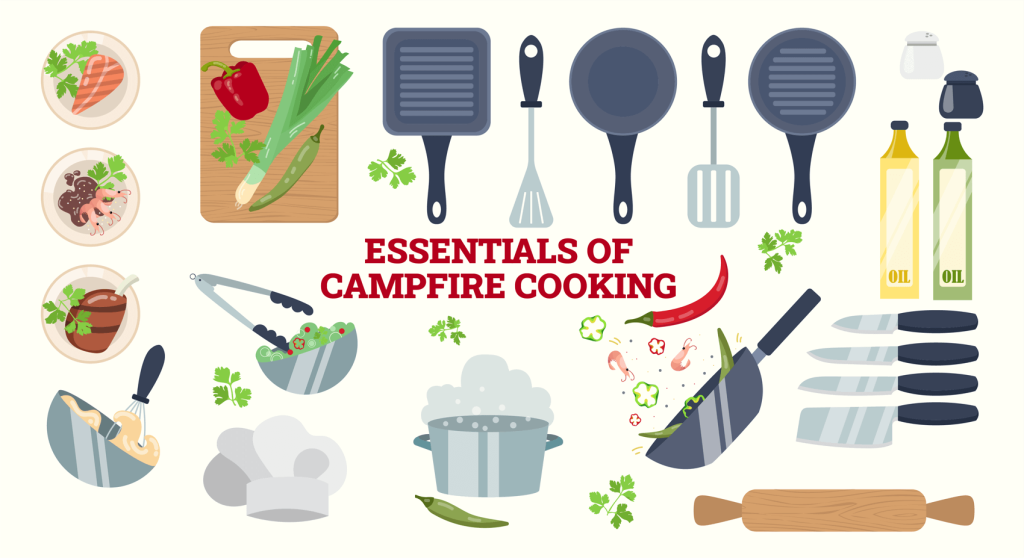 Material
The material of the cooking kit is very important because it is the body of the campfire cooking. The material will help you cook food and it will also act as a container for all your cooking fuel. If you are looking for a cooking kit that can withstand the heat then go for stainless steel material, aluminum and cast iron.
Cast iron is a great material because it can handle the heat and it will last you a long time. However, cast iron campfire cooking kits can weight more than others so that is one thing that you need to take into consideration.
The stainless steel material is durable and lightweight. The stainless steel material is also very easy to clean and maintain.
Hard-anodized aluminum on the other hand is an excellent material to use if you want a campfire cooking kit that has a light weight. The weight of your kit will determine how difficult it is for you to carry it around. So, if you are looking for something lightweight then consider using the aluminum material.
Cast iron, stainless steels, and aluminum are the three most common types of cookware. Each has its own advantages and disadvantages.
Weighs
You'll also want to check the weight of the cooking tools. Lighter units are better suited for backpacking trips. Heavy models are ideal for car camping.
The weight of the cooking kit is important because it can affect how easy it will be to carry on your hike. If you are hiking in a forest then a heavy pot might not be noticeable, but if you're camping in the mountains then every ounce counts. So, it would be wise to look for a cooking kit that is lightweight and sturdy.
Depending on your camping style, the weight of the cooking equipment you carry can be important. If you're backpacking, the weight of your backpack can be an issue.
However, if all that matters are taking the campfire cooking kit from your vehicle to the campsite, then weight doesn't really matter.
Durability
The material of the campfire cooking kit is important, but what is more important is how long the cooking kit will last. And check that has a wide surface area that helps distribute heats evenly. You need to consider this because you don't want your cooking kit to break after a short time or you will end up spending more money.
When choosing a camping kit, heat distribution and durability is most important factor. If you plan on using the unit often, it needs to be able to withstand the elements. In addition, you'll want to make sure that the kit is sturdy enough to handle rough terrain.
Campfire cooking utensils are often exposed to extreme conditions. They don't matter if they're sitting on a hot fire or being driven around, they must be able to endure abuse.
Nobody wants to pay for a new kit every year. If you plan on using the unit often, you'll want to find a model that offers multiple years of service.
Cleaning and Maintenance
One more thing to keep in mind is how easy it is to clean the camping kit after use. You don't want to spend your entire trip cleaning up after yourself. Make sure that the kit comes with a removable lid. This will allow you to wipe down the unit without removing any parts.
Best Campfire Cooking Kit Brands
During the first half of the 1900s, most American homes had at least one set of cast iron cooking utensils and cookware made by companies including Griswold, Lodge, and others. Some of these brands brief details are below:
Stanley
The Stanley brand has had a long history of innovation. It was invented by William Stanley Jr., who created the first all-steel bottles for hot beverages. And It's been around for years of adventure. They've come up with, innovated and inspired through a unique spirit that matches your wild imaginations.
As a symbol of their enduring quality for almost a hundred years, a steady stream of Stanley designs continues to keep your family's kitchenware ready for cooking and serving.
They're there to help you enjoy your outdoor experiences, whether you're hiking up Mount Kilimanjaro or just exploring your own backyard. They have been part of people's lives since ancient times and will continue to play a role in building a more sustainable, less wasteful society while expanding our frontiers into the heavens above.
Cuisinel
Cuisinel has been making high quality stainless steel cookware since 2016. Their products include camping pot, pans, skillets, bake ware, and other items. Cuisinel offers a wide variety of sizes and styles.
Their products are designed to be durable, easy to clean, and attractive. They are made from heavy gauge stainless steel which makes them long lasting. The company is committed to providing customers with the best value on the market.
Lodge
Founded in 1896 by Joseph Lodge, Lodge Manufacturing Company is a leading manufacturer of cast iron utensils. They make everything from small saucepans to large griddles.
The company prides itself on its commitment to customer service. They offer free shipping and return policies. Their products are made from heavy gauge cast iron. They also feature nonstick surfaces and handles. You can find Lodge products at many major retailers like Walmart, Rei, Bed Bath & Beyond, and Amazon.
Bruntmor
Bruntmor is a well-known name in the cast iron industry. Founded in 2014, they manufacture a wide range of products, including cooking utensils, stoves, and ceramic dishes.
They focus especially on creating products that are both functional and beautiful. Bruntmor uses only top-quality materials and finishes.
Let's take a closer look at our reviews.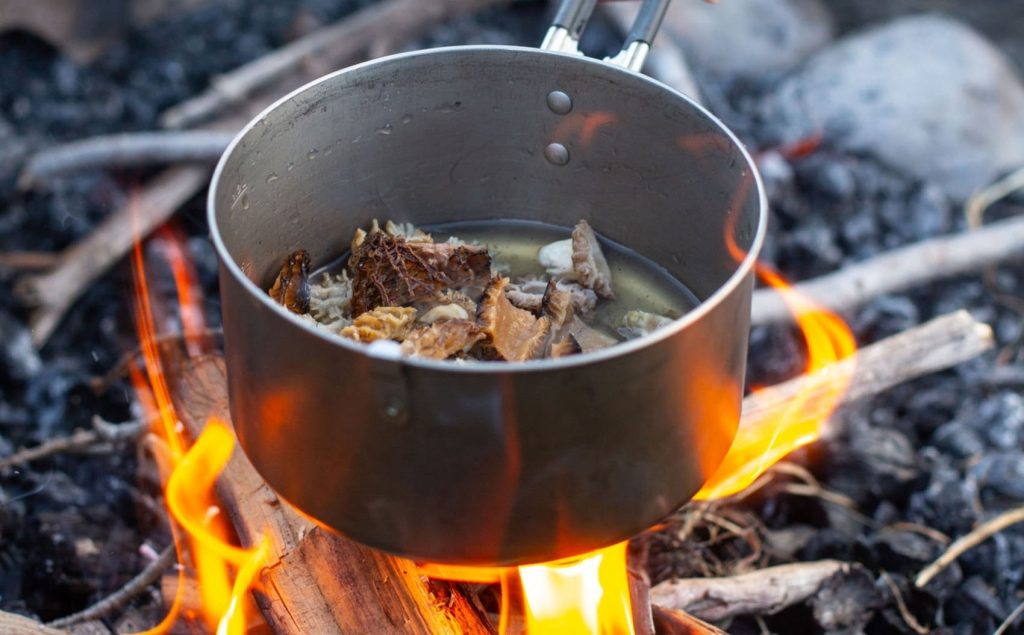 Reviews of the Best Campfire Cooking Kits
Cuisinel Cast Iron Cookware 11 Pcs
Price: $219.99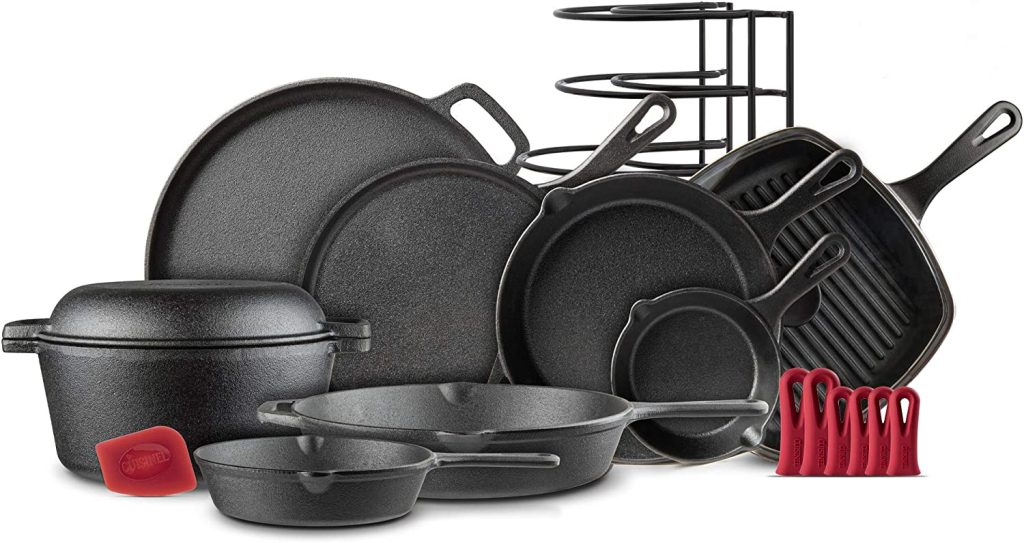 If you're looking for a complete campfire cooking equipment, look no further than the Cuisinel cook set. These skillets have a polished finish to help distribute evenly for better cooking and frying, stove or induction cooktops, and even on grills and camping fires.
The tempered glass lids will maintain heat, prevent splashback and preserve steam and moisture. Each piece of camping cookware is crafted with seasoned cast irons that can last for years of regular cooking and cleaning for long term reliability.
This campfire cooking kit includes cast iron pans, Griddle and Dutch ovens that are ideal for camping because they're sturdy and long lasting. They are also sold separately with drying rack.
This classic campfire cooking set comes complete with non-slip, heat resistant handles to keep your hands safe while cooking and serve food.
Why We Love It:
Complete set
Non-slip, heat resistant handles
Tempered glass lids
Stanley Even Heat Campfire Cooking Kits
Price: $104.97

If you're looking for safe stainless steel cooking pots and frying pan for cooking over campfire, then look no further than the Stanley Even Heat Camp Pro Cookset. It's perfect for camping, fishing, hunting, and any other outdoor activities where you want to prepare meals while out in the wild.
The campfire cooking kit comes with three different sizes of stainless steel pots and pans. These include a 4 quart stockpot, a 2 quart saucepan, and a 9 quart fryer. Each piece has a nonstick coating that allows you to cook without worrying about sticking.
The pans have a flared lip that prevents liquids from spilling over when you're stirring. The handles are ergonomically designed to fit comfortably in your hands. And the lid features a vent hole that lets steam escape as it cooks. You can use the pans to boil water, simmer sauces, sauté vegetables, and bake cakes. All you need is a campfire, some wood, and a little bit of patience.
Bruntmor Camping Cooking Set of 7
Price: $169.99
The Bruntmor camping cooking set is designed to provide excellent performance on campfire cooking. If you want to cook food an open fire or with the burning ash, this camping gear is ideal for you. The large pot has a capacity of 5 quarts. This means that you can prepare enough food for up to six people.
The pot comes with a lid that doubles as a trivet. This allows you to rest the pot on the ground while you cook. The pot is also equipped with a lid lifter. This helps you lift the lid without having to hold it by hand.
The cast iron pan and griddle is perfect for frying eggs or pancakes. It's also great for making omelets or other foods that require a flat surface. The griddle features a removable grid. This makes it easier to clean than traditional griddles.
RELIANCER 8 Piece Pre-Seasoned Dutch Oven Cooking Set
Price: $154.85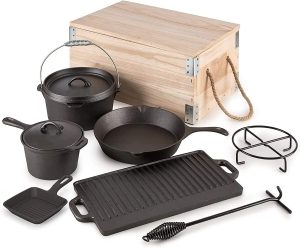 Having your own campfire cooking kit for camping trips is a great idea, so you can easily bring all the necessary items your group needs and have everything ready to use.
The durable cast iron pots and pans come complete with lids and handles so they are easy to store away after use. They are pre-seasoned to ensure they are ready to use straight out of the box. Each piece comes with a wooden storage box (for easy storage) to keep them safe and organized.
The campfire cooking kits are ideal for stewing, frying, and braising delicious meals directly over an open flame. It is designed to fit snugly into any size fire pit, allowing you to cook right over the flames. You can also use it as a real oven to bake bread, pizza, cookies, cakes, etc.
This is perfect gift for outdoor enthusiasts and people who enjoy camping and RV lifestyle.
Amazon Basics Pre-Seasoned Cast Iron Cookware Set
Price: $125.06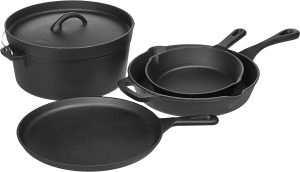 If you are looking for a durable and safe cookware set for cooking over an open flame, camping trips, outdoor events, etc., look no further than this AmazonBasics model. This cookware set comes with five pieces: three frying pans and a Dutch oven with lid.
The campfire cooking kit includes two heavy-duty cast iron pans, which means that they won't break easily. They are also simple to clean, which makes them ideal for camping.
This set has been designed to provide even heating and consistent results. Each piece features a flat bottom and sides, allowing for easy cleaning. The handles are sturdy and comfortable to hold.
This cookware set is perfect for camping, picnics, tailgating parties, barbecues, and other outdoor activities. It's also great for beginners who want to learn how to cook without burning themselves.
GSI Outdoors Pinnacle Campfire Cooking Set
Price: $159.95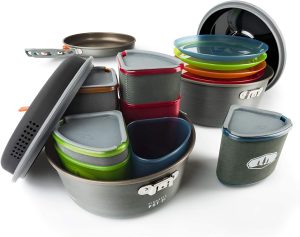 If you're looking for a set of campfire cooking equipment that can carry everything you need for a weeklong trip, look no further than the GSI Outdoors Pinnacle Campfire Cook Set. This campfire cooking kit comes with four plates, four insulated mugs, four bowls, two large pots, and three smaller pots.
The pots and pan are coated in Teflon Radiance, a non-stick coating that's resistant to scratches. Also, the deep dish plates, bowls, and mugs are all made out of polypropylene, which is strong enough to withstand outdoor use without breaking.
This set includes everything you'll need to cook meals at home or on the trail. It has a collapsible handle that allows it to fit inside your backpack. There are also straps that allow you to hang it from trees or other structures.
This campfire cooking kit is great for camping trips because it's lightweight and compact. It doesn't take up much space in your backpack, but it still provides plenty of room for food and drinks. That means you can save space in your backpack while going on your camping trip.
Boundless Voyage Titanium Canteen Mess Kit
Price: $140.00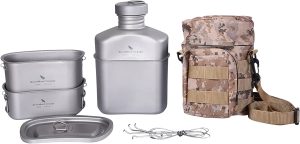 The Boundless Voyage Titanium Canteen Mess Kit is ideal for solo campers that includes a canteen, two cups and a lid. This is an excellent choice for backpackers who want to have everything they need in all in one kit. The Boundless Voyage Mess Kit is perfect for anyone who needs a lightweight, full-featured camping cooking kit that fits easily into a backpack.
The vented lid has 3 holes that serve as strainer holes. It also serves as a convenient storage area for keys, coins, etc. The large opening allows you to fill the canteen without spilling any water. This set includes a camouflage storage bag that really attracts me.
The canteen itself is made out of titanium, making it lightweight and durable. It's perfect for people who spend time outside because it won't rust or corrode. The only drawback is that this set lacks a frying pan.
MSR Flex 4 Group Campfire Cooking Kit
Price: $104.97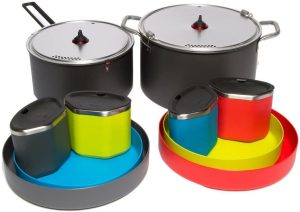 The MSR Flex 4 Group is a durable camping cook set that's perfect for large group outings. The set includes two pots and a strainer lid. One pot has a strainer lid, while the other one does not. This allows you to have separate pots for cooking and serving.
The pots measure 5.3 liters each and are designed to hold enough food to feed up to six people. The larger pot features a strainer lid, making it easy to strain food. The smaller pot does not have a strainer lid, but it still comes with a strainer.
Some of them are bpa free plastic containers and bpa free plastic freezer bags, which are great for utensil storage in camp. You can put forks, spoons, spatulas, knives, kit nest, coffee pot, pot holder and camp stove. Both anodized aluminum pots come with a collapsible handle that folds down when the pots are packed away.
Lodge Pre-Seasoned Cast Iron Set
Price: $98.90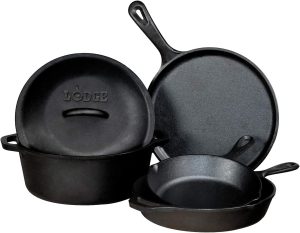 If you're looking for a set of durable cookware for outdoor cooking, then look no further than the Lodge Pre-Seasoned 5 Piece camping gear. This set includes everything you need to prepare delicious meals over an open flame.
The hot cast iron skillet has a large capacity and comes with a lid that's designed to fit perfectly inside the frying pan. It's also nonstick coated, so it won't stick to your food while you're cooking. The Dutch oven is ideal for baking breads, roasts, stews, and other dishes. It also has a tight fitting lid that allows steam to escape while preventing moisture from escaping.
Using the proper campfire cooking kit, you can be a master cook in the backcountry and make delicious meals with methods such as grilling, sautéing, boil water, steaming, and baking.
Wealers Camping Cookware Set
Price: $69.99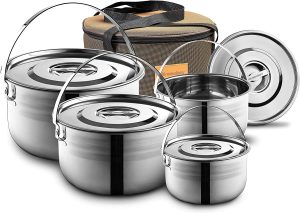 If you're looking for a lightweight campfire cooking kit, look no further than this Wealer's Cookware Set. It includes a storage bag (carry bag for easy storage), two strainer lids and hard-anodized aluminum pots that will fit perfectly in any backpack. The set comes with a lid and a strainer that fit inside the pot. This allows you to use the same pot as a strainer.
The smaller pot cascades into the larger pot and packs neatly into the storage bag. The large pot features a perforated handle that hangs over the fire and suspends the pot over the flames.
This camping cook set includes everything you need to prepare meals while camping. The small pot is ideal for boiling water and making tea. The large pot is perfect for simmering soups and stews. Both cooking pots come with lids that allow you to strain out impurities.
Essentials for Cooking on a Campfire
Do you plan for a camping trip to the great outdoors? Cooking on a campfire requires special equipment. It's important to ensure cleanliness when you're camping and packing everything away so that no food residue or mold builds up on any of your items. Here are some things that you'll need for your next camping trip: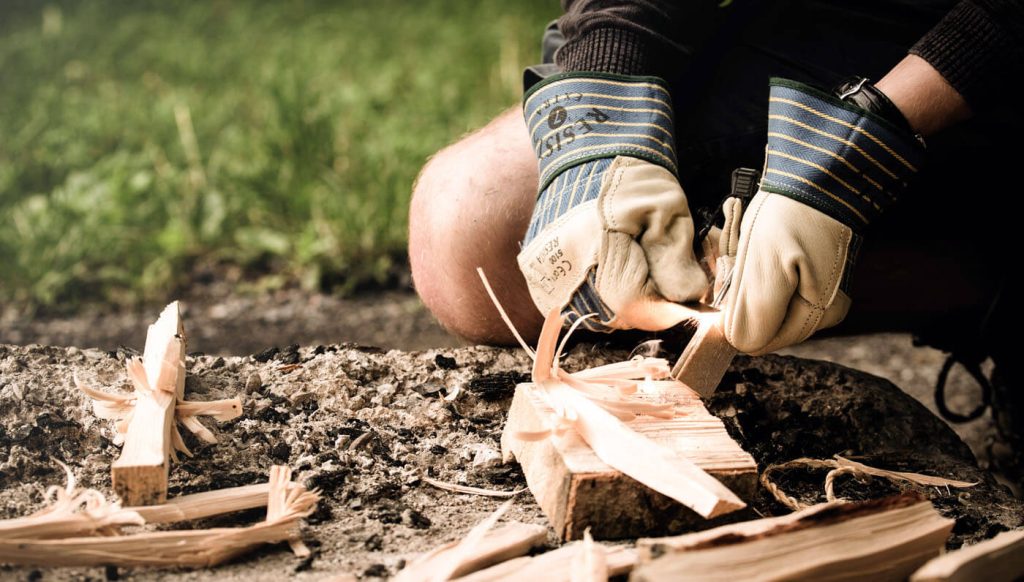 Fire Starters
A fire starter is essential for starting a fire indoors. It's especially important when you're camping. Other common fire starters include:
Charcoal briquettes
Charred wood
Firecrackers
Lighter fluid
Matches
Fatwood fire starter sticks
Stainless steel skewers
Skewers come in handy when you're grilling foods like steaks and hamburgers. They're also great for turning meats into kebabs. Make sure that you use long ones. Short ones tend to bend under pressure. The skewers help you turn the food while keeping it from falling through the grate.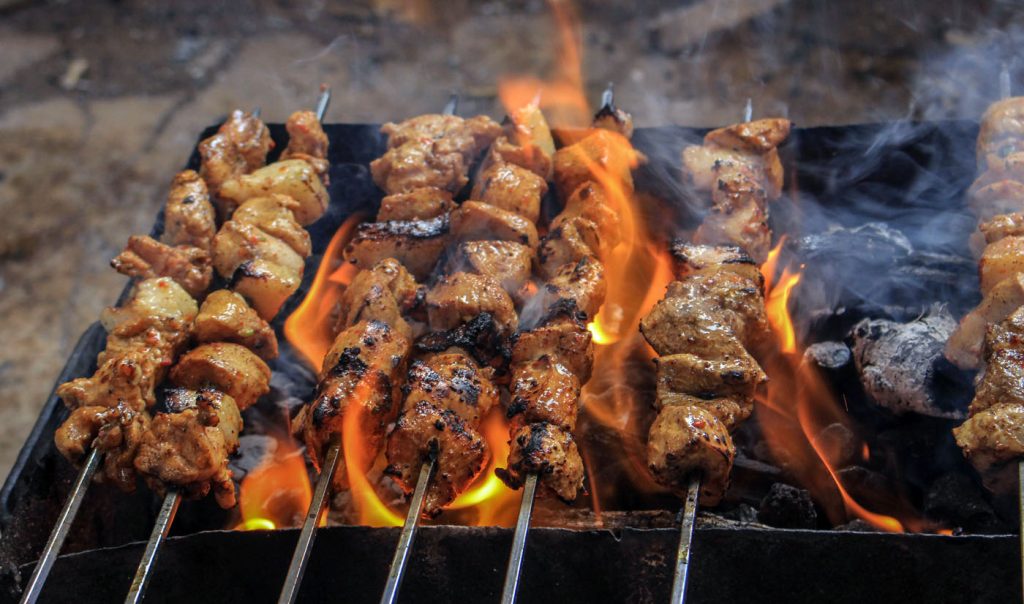 Grill Grate or Grilling Basket
If you're planning to grill foods, you'll need a grate. It's basically a metal grid that sits above the fire. It helps to prevent grease from dripping into the fire. A campfire Grill is essential for anything from burgers to steaks. With the proper equipment, you can save cooking time in the camp kitchen and make cleaning up afterwards less of a hassle.
Most grates are made out of either stainless steel or aluminum. Aluminum grates are easier to clean. However, they're more likely to rust over time. Stainless steel grates last longer.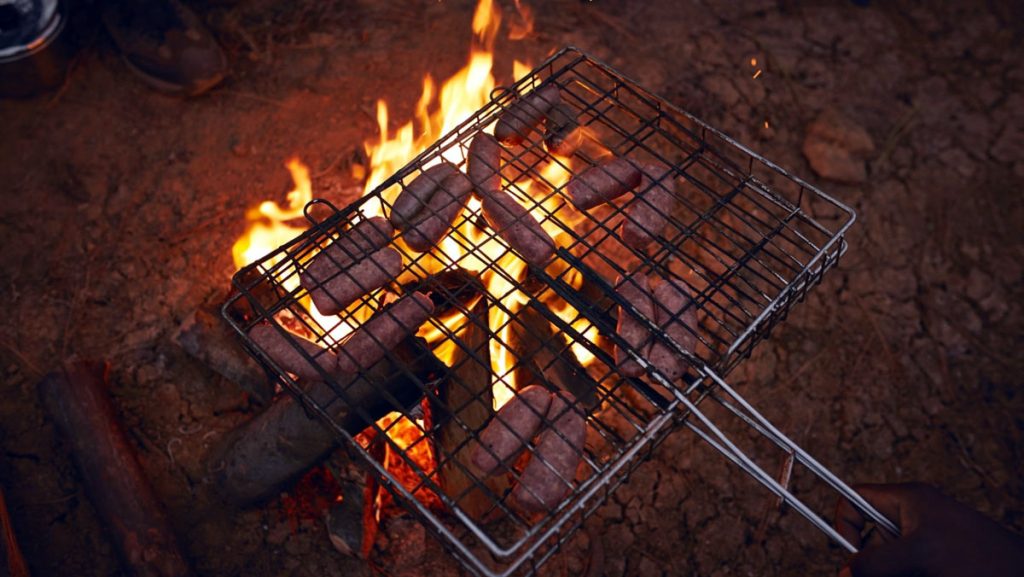 Foldable campfire grill
If you plan to grill foods outdoors, you'll need a foldable grill. Foldable grills are easy to store and transport. Plus, they're lightweight. You can use hot coals or mini stove to cook your food on a campfire, but you can also use them to get a barbecue grill started. The best conditions are hot embers, and it may take 30 to 40 minutes to achieve them.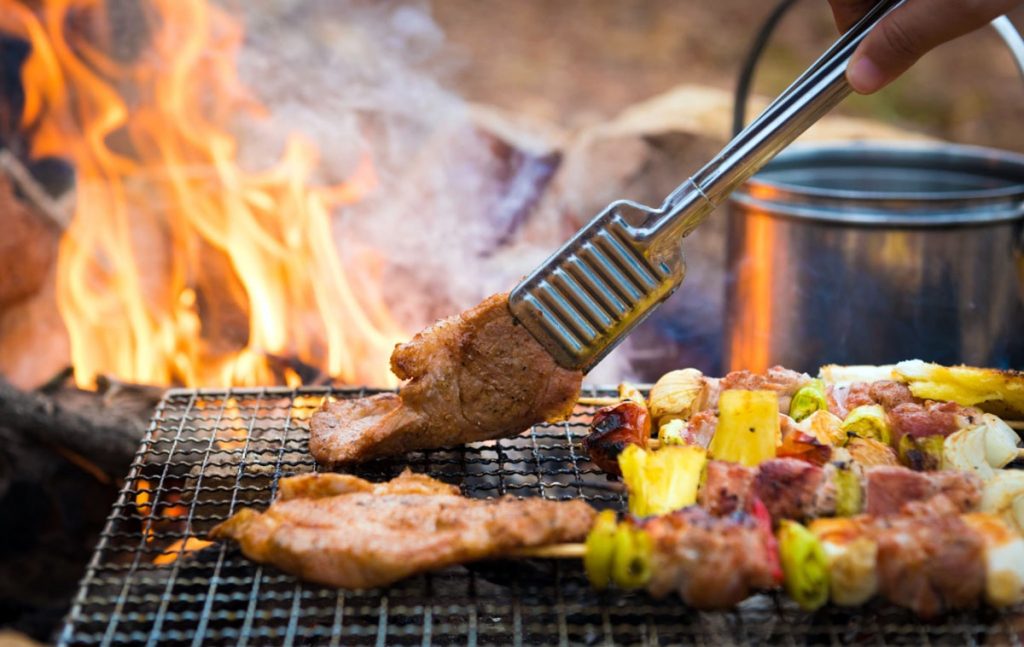 Grill Gloves
When using a grill, you'll need to protect your hands from getting burned. Long gloves are an excellent way to do this. These gloves cover all the fingers except for the thumb. They're usually made out of leather or vinyl. Leather gloves are more durable but less flexible. Vinyl gloves are more flexible but not as durable.
Aluminum foil
When it comes to preparing meals, aluminum tin foil is an essential item. It's used to wrap foods before baking them. It also protects foods from burning during roasting.
You can find aluminum foil at grocery stores. Make sure that you purchase the kind that's labeled "aluminum." Also, look for the word "uncoated" on the package. That means that there's no coating on the surface.
Tongs
A tongs is another indispensable cooking tool. It's used to move hot items around the fire. It's also used to pick things up.
You can find tongs at most kitchen supply stores. Look for ones that have a sturdy grip. The handles should be comfortable to hold.
Cleaning and Maintenance
The campfire cooking tools comes in different materials so it is important to clean them differently. Cast iron, stainless steel, and aluminum can be washed with warm soapy water while the carbon steel can only be washed with soap and water.
To keep your cookware clean, you'll need cleaning supplies. You should pack Baking soda or Vinegar. This powdery substance is useful for removing stains from pots and pans. Simply mix some baking soda with a little bit of vinegar.
Solo Stove
A camping stove is essential for any outdoor cooking. This compact, lightweight stove is designed to burn wood efficiently and produce minimal smoke, making it perfect for cooking over a campfire.
Tips for Ultimate Outdoor Camping Trip
Complete Campfire essentials
Make sure you pack everything you need. The best campfire cooking kit includes all the essentials: a frying pan, pot, oven, bowls, four deep dish plates, strainer lids, serving spoon, matches, dish soap, cutting board and other tools needed to start a fire. Also you can bring camp stove for cooking your food. Having some sort of cutting board is essential unless you are an expert at camping meal prep.
Campfire Cooking Equipment
When it comes to campfire cooking, there are a few key pieces of equipment you'll need. First, a good set of skewers is essential for cooking hot dogs, marshmallows, and other classic camping treats. A Dutch-oven is another must-have item, as it allows for a wide range of cooking options, from baking to stewing. Other useful pieces of equipment include a fire grate, a cooking tripod, and a set of stainless steel tongs.
Campfire Cooking Techniques
Campfire cooking is a bit different than traditional stovetop or oven cooking, so it's important to know a few basic techniques. First, it's important to build the right kind of fire. A good campfire should be built with a combination of larger logs and small twigs, with a bed of coals at the base. Once the fire is built, it's important to pay attention to heat levels. Some campfire cooking techniques, like baking and stewing, require a lower heat, while others, like grilling and frying, require a higher heat.
Campfire Cooking Recipes
There are countless delicious recipes that can be made over a campfire. Some of our favorites campfire meals include:
Dutch Oven Chili: This hearty stew is perfect for a cold night around the campfire.
Campfire Foil Packets: These packets are filled with your favorite vegetables and meats, and then cooked directly on the coals for a delicious and easy meal.
Campfire Breakfast: This classic breakfast includes eggs, bacon, and potatoes cooked over the fire.
Campfire Banana Boats: A classic dessert that's easy to make and always a crowd-pleaser.
FAQs About Campfire Cooking Kit
What can I use to cook over a campfire?
You can use a variety of items to cook over a campfire, such as Dutch ovens, pots, griddles, and skewers. A campfire cooking kit is designed to make the process easier by providing all the necessary items in one convenient package.
Is it OK to cook over a campfire?
Yes, it is perfectly safe to cook over a campfire as long as you take the necessary safety precautions. Make sure to keep the fire away from flammable materials and never leave it unattended. Additionally, be sure to use the right tools for the job, such as long-handled utensils and heat-resistant gloves.
What is the best campfire for cooking?
The best campfire for cooking is a campfire that burns with a hot, clear flame. Terms like "good" and "bright" are meaningless indicators of the hottest fire. To test the heat of a fire, hold your hand about 8 inches from the flames and then compare it to another fire with a lower heat level. The higher the heat, the more quickly your hand will reflexively move away from the flames in response to being scalded.
What kind of pan do you use on a campfire?
I normally use a cast-iron skillet pan for frying and searing on campfires. It's heavy and takes a bit to heat properly, the cast iron distributes heat very well, the bottom is flat enough to hold onto a spatula, and it lasts decades of cooking on all types of fires (campfire and open fire pit).
Can I use stainless steel cook set over an open fire?
Stainless steel pots and pans will work fine over an open fire. They won't rust, so there's no worry about damage from acidic foods.
How Do I Keep My Food Safe During a Fire?
Keep all foods covered with aluminum foil until after the fire dies down. Then remove the foil and let the food cool before eating.
Is it safe to eat off of the ground?
It's not recommended, but it's possible. The safest way to eat off the ground is to dig a hole about 6 inches deep. Cover the hole with dirt and then cover that with leaves or grass.
Final thoughts
Cooking over a campfire is a great way to enjoy the outdoors without sacrificing your delicious meal. Camping is one of those activities where people tend to get carried away. It's easy to forget things like what type of stove to bring, or how to start a fire. I love camping and that's why the passion I want to share with everyone. With a little research, you can find the right campfire cooking utensils for your needs. Once you do, you'll never go back to lighting a fire again!
Finally, a good campfire cooking kit can be used for a variety of outdoor activities, from backpack camping to picnics and tailgating. Hopefully, we've helped you prepare for your next adventure.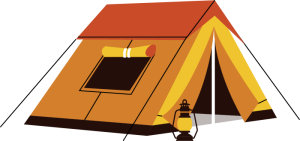 Outdoor Awaits is supported by its readers. We may earn an affiliate commission if you use our links to purchase a product(s) at no additional cost to you. To know more about us and learn how we tested the outdoor gear on our FAQ page.