Camping is a great way to get away from the hustle and bustle of everyday life and enjoy the great outdoors. But, in order to truly enjoy your camping experience, you need to have the right camping gear. One piece of gear that is essential for any camping trip is a good camping fridge.
When it comes to choosing a camping fridge, there are a few things to keep in mind. First, you'll want to consider the size of the fridge. If you're just going camping for a weekend, a small fridge will do the trick. However, if you're going for a longer trip, or you're planning to feed a large group of people, you'll want to opt for a larger fridge.
When it comes to camping fridges, there are a few camping fridge brands that stand out above the rest. Here are 9 of the best camping fridges on the market:
Our Top 9 Best Camping Fridge Picks
Below we listed our 9 best camping portable fridges for a faster comparison:
Guide to Choosing the Best Portable Fridge for Camping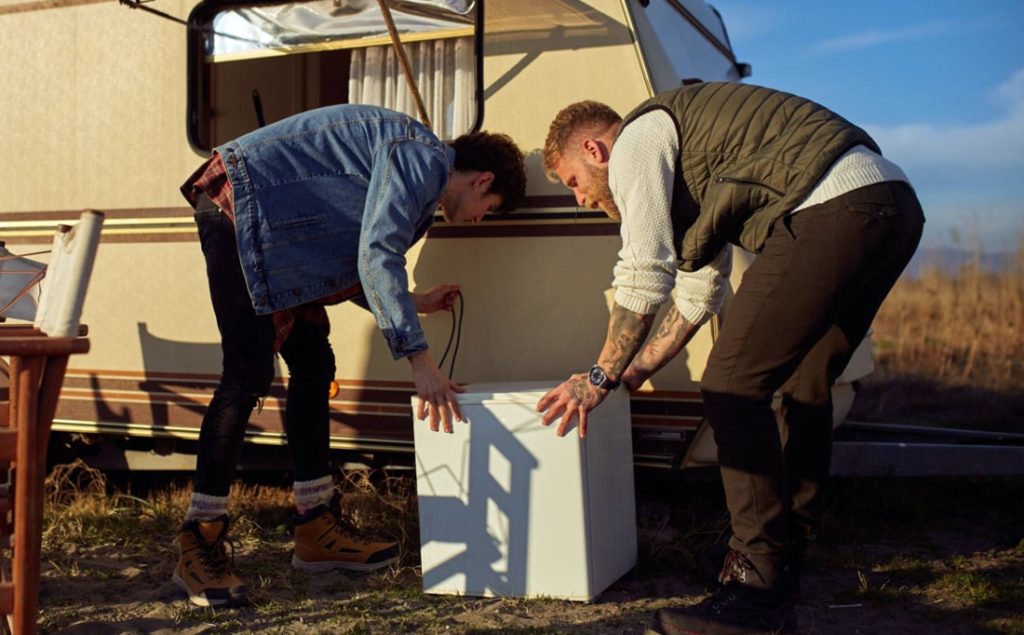 When looking to purchase a camping fridge, there are several key factors to consider in order to ensure you get the best option for your needs.
Size
First, consider the size of the camping fridge and how much storage space you will need. Will you be camping with a large group or just a few people? This will determine how big of a fridge you will need. The size camping fridge you purchase will depend on how long your trips will be.
Power source
Next power supply, think about the power source for the fridge. Will you have access to electricity at your campsite or will you need a fridge that runs on dc power, solar power or propane gas?
Portability
Consider the weight and size of the fridge and whether it is easy to transport and set up at your campsite. When selecting a camping refrigerator, one of the most crucial factors to consider is how much space you need inside your cooler.
Temperature control
Look for a fridge that has precise temperature control so you can keep your food and drinks at the desired temperature.
Durability
Make sure the fridge is made of sturdy and durable materials that can withstand the outdoor elements.
Price
Finally, consider your budget and compare the prices of different camping fridges to find the best option within your price range.
By keeping these key factors in mind, you can find the best camping fridge that will meet all of your needs and keep your food and drinks fresh and cold while you are camping.
Reviews of the 9 Best Camping Fridges
ICECO GO20 Dual Zone Portable Refrigerator
Price: $449.00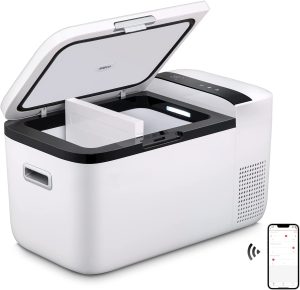 The SECOP Compressor portable refrigerator/freezer is a versatile and well-designed product. With a cooling range of 0°F to 50°F (-18℃-10℃). It is capable of keeping a wide variety of items at the desired temperature.
The fast cooling mode is a particularly useful feature, as it allows the user to quickly cool their items while using minimal power. Additionally, the anti-bump compressor ensures that the refrigerator can work stably even in extreme temperatures.
One of the most impressive features of this portable fridge is its automatic switching between single and dual zone mode.
This is achieved by removing the detachable partition, which creates two separate zones for refrigeration and freezing. Each zone is controlled by an independent digital controller, providing the user with even more precise temperature control.
Furthermore, the portable refrigerator comes equipped with a 2.5m cigarette lighter and an adapter, making it possible to use at home or in a car. And it can be controlled by an APP.
In terms of design and durability, this portable refrigerator is a top-of-the-line product. It is a winner of the German Red Dot Design Award and the IDEA International Design Excellence Award. It also has an ETL certificate.
The manufacturer offers a 5-year warranty on the compressor and a 1-year warranty on accessories. Additionally, the local after-sales telephone service is available and the Amazon messages will be answered within 24 hours even on weekends.
Overall, one of the best camping fridge, who needs a reliable and compact refrigeration solution.
AstroAI 12 Portable Freezer
Price: $219.99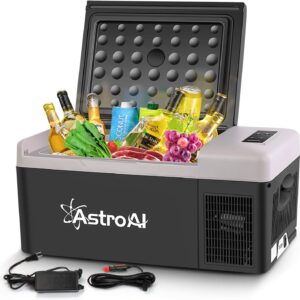 This is one of the best camping fridge with minimal power consumption. The Astroai portable freezer is a heavy-duty and versatile appliance that boasts an ample 15L capacity and a sizeable interior of 13.8"L x 9.6"W x 7.1"H.
With its powerful compressor, stainless steel hinges, the car refrigerator can cool to 32°F at most in 15 minutes when empty; it takes about an hour to reach its lowest temperature of -20°C (cools to -4°F below ambient temperature).
The portable refrigerators uses its power cooler to function as both a fridge and a freezer, keeping drinks, fruit, ice cream, vegetables, seafood, meat, skincare products, milk and more chilled or frozen. It is an ideal portable fridge for camping, barbecues, house parties, and wherever adventure takes you.
The portable compressor fridge includes three power-saving levels: low, medium, and high. These modes reduce power consumption to the desired level, maximizing the car's battery life. You may create fridge freezer divisions out of the fridge space.
Once you set a level, the refrigerator will automatically re-apply the setting whenever you turn it on. The fridge's digital display ensures easy operation and checking temperature inside in low-light conditions (interior light).
Its USB port allows you to conveniently charge your phone. The UL-listed car cigarette lighter extension cord and AC input both have replaceable fuses that protect against overloads and short circuits.
The AstroAI 15L portable fridge freezer includes both a 12V/24V DC and a 100V-240V AC adapter for seamless use whether at home or in your car. You can even use it outdoors with a portable power bank!
The operating temperature does not exceed 131℉. You can switch between the MAX and ECO modes for faster cooling or energy saving. It consumes less than 1 KW.H per day in ECO mode.
BougeRV 12 Volt Refrigerator
Price: $216.99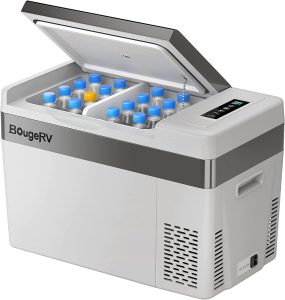 This is our top 3 choice of the best camping fridge that is a versatile and reliable option for those who need a portable refrigeration solution for their campsite. With its compressor refrigeration technology, this fridge is able to achieve fast cooling, bringing the temperature down from 77℉ to 32℉ in just 20 minutes and from 77℉ to -5℉ in 50 minutes.
This helps keep your food fresh and eliminates the need for ice, saving both money and space. The product also comes with a 2-year warranty, and BougeRV offers hassle-free after-sale service for any questions or concerns.
In terms of energy efficiency, the CR28 excels with its ECO energy saving mode which limits the operating power to less than 45W. Even when running on MAX mode, it consumes less than 1kwh/day thanks to its intelligent cycle work.
This portable refrigerator can be powered by 12/24 V DC, making it compatible with a wide range of vehicles such as SUVs, trucks, RVs, campers, vans, and boats. The dimension of the fridge is 22.4412.6015.55in and it weighs 24.14lb which is very lightweight.
Another great feature of this fridge is its low noise operation, ensuring that you can have a good sleep after a long drive. Additionally, it has a shock-proof design that allows it to operate without a problem even when the vehicle is on an incline of up to 30 degrees.
Additionally, the fridge has a 3-level battery monitor that allows you to choose at what battery voltage the fridge will shut off to prevent complete battery drain. This makes it an ideal option for those who frequently travel off-road. Overall, the CR28 12V refrigerator is a great choice for those looking for a portable and efficient refrigeration solution for their vehicles.
ARB 73 Qts Dual Zone Portable Fridge Freezer
Price: $1568.00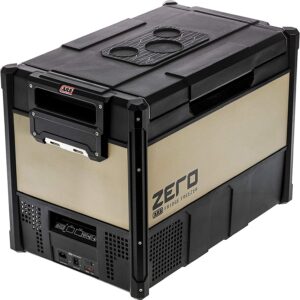 If you're searching for the best camping fridge that is durable, then the QTS Dual Zone portable refrigerators are perfect for short and longer camping trips. You can keep a ton of fresh food in storage.
The portable compressor fridge is a high-quality and durable product that is ideal for camping. With a capacity of 2.44 cubic feet, it is large enough to hold all of your food and drink necessities for a weekend camping trip.
Its compact size, weighing in at only 63 pounds, makes it easy to transport and store. The 73 Qt Dual Zone feature allows for the upper and lower compartment to be set to different temperatures, which is perfect for storing both perishable and non-perishable items.
One of the standout features of this portable fridge is its design. The manufacturer, ARB, is a leading producer of high-quality products and is internationally renowned for their diverse range of award-winning products.
The 10802692 ZERO Portable Fridge is no exception, as it has been designed with the user in mind. It is easy to operate and navigate, with just one door for easy access to all of your food and drink items. Additionally, the compressor camping fridge operates on 5 volts, making it energy-efficient and easy to power with a portable generator or car cigarette lighter.
Furthermore, these portable fridges has been proven and tested for durability and function in real-world conditions. It has met or exceeded all required and standardized testing, ensuring that it is a reliable and long-lasting option for campers.
DOMETIC CFX3 75-Liter Dual Zone Portable Refrigerator
Price: $1399.99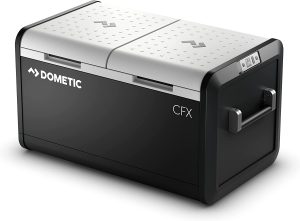 The best camping fridge come from heavy duty and lightweight ExoFrame construction. The VMSO3 compressor cooling technology allows the cooler to be refrigerated or deep frozen down to -7°F, making it perfect for keeping drinks and food at the desired temperature, no matter the weather conditions.
You can use these refrigerator compartments as either a refrigerator and a freezer, or one of each separately. The aluminum alloy handles ensure that the cooler is built to withstand any conditions and is easy to transport.
A thermoelectric cooler is the most affordable type of fridge, absorption fridges come in at a mid-range price point, and compressor fridges are usually the most expensive as they often have two compartments. This dometic camping fridge setting ensures the proper circulation of cool air, keeping all your food cool.
The dual zone fridge freezer also boasts ultra-low power consumption, with the ability to be AC power, or solar and a built-in 3-stage dynamic battery protection system that prevents dead batteries. It will keep your food fresh and maintain a constant cooling temperature for the duration of your trip.
You can build a fridge by taking a chest freezer, connecting it to an inverter, and wiring the thermostat to maintain fridge temperatures. This camping fridge allows for temperature control via WiFi or Bluetooth and provides a performance history, making it easy to monitor and control the cooler's performance.
The high-resolution color display and soft-touch buttons make it easy to control and monitor the cooler's performance, and the dual zone cooling feature allows for dual compartments with independent temperature controls, making it easy to separate food and drinks with different temperature needs.
This electric camping fridge offers reliable cooling capabilities even in ambient temperatures, while using less electricity. Overall, its construction, highly efficient and materials are of great quality and value.
F40C4TMP Portable Refrigerator
Price: $189.99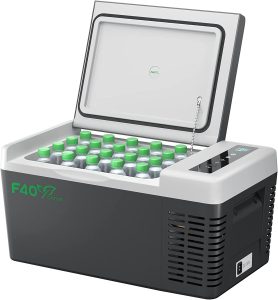 This is one of the best camping fridge from the F40C4TMP brand. The F40C4TMP 12 volt portable freezer is a powerful and versatile option for keeping food and drinks cold while on the go. With its powerful compressor, this refrigerator can cool down to 32℉ within 20 minutes and reach the lowest temperature of -7.6℉ in about an hour.
It also features two cooling modes, MAX (fast cooling) and ECO (energy saving), allowing users to choose between quick cooling or energy efficiency.
Additionally, the magnetic door of the freezer has better sealing performance and durability, preventing leaks and reducing energy consumption. For optimal performance, a camper fridge is often an absorption fridge that runs on propane rather than electricity.
This appliance has two compartments; one with a fridge temperature and another with a freezer compartments, so you can keep your food items separate. One of the standout features of the F40C4TMP 12 volt portable freezer is its capacity.
The external dimensions of 22.6812.611.3 inches make it easy to fit in a trunk, behind a car seat, or in the bed of a truck. It is also perfect for use in cars, RVs, campsites, boats, camping, road trips, and even at home.
Another great feature of this portable freezer is its battery protection system. The rated power of the 12V truck refrigerator in MAX mode is 45W, which consumes less than 1kWh per day.
Igloo Heavy-Duty 25 Qt BMX Ice Chest Cooler
Price: $89.99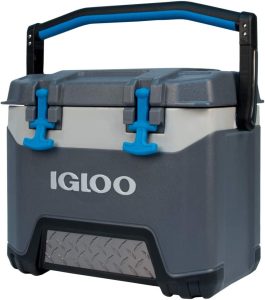 This is one of the best camping fridge that is portable and lightweight. The Igloo BMX Cooler is a durable and sturdy cooler that is designed to keep your drinks and food cool for extended periods of time.
The construction of this cooler is made with heavy-duty blow-molded material and reinforced base for increased strength and protection. This makes the cooler extremely durable yet lightweight, with a proven 4-5 day ice retention.
One of the standout features of this cooler is its UV inhibitors that protect the cooler against sun damage for extended life. This is especially useful for outdoor activities such as camping, fishing, and picnics.
The rust-resistant, stainless-steel hinge rods and hardware also provide extended performance, making the cooler more durable and long-lasting. Additionally, the rubberized T-grip latches keep the lid secure, so you don't have to worry about your drinks and food falling out.
The cool box with 20% thicker foam and insulated lid provide advanced cooling performance and up to 4-day ice retention. The Cool Riser Technology molded base elevates the cooler away from hot surfaces and improves cooling performance.
The comfort grip, 3-point-grab handle makes it easy to carry the cooler with one hand, and the built-in tie-down loops allow for easy transportation. Additionally, the integrated ruler on the lid makes it easy to estimate your catch, which is great for fishing trips.
The portable unit is easy to clean and maintain with the care instructions of hand wash. Overall, the Heavy Duty Blow-Molded Cooler is a great option for anyone looking for a durable and long-lasting cooler that can keep their drinks and food cool for extended periods of time.
Coleman Rolling Cooler
Price: $59.99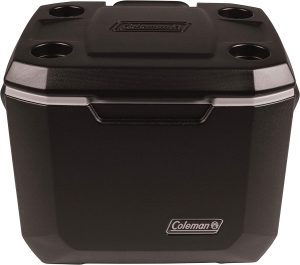 If you are looking for the best camping fridge that is lightweight and portable, then the Coleman Rolling Cooler is right for you. The Xtreme Technology cooler from Coleman is a high-performance option for those in need of a durable and long-lasting cooler.
The insulated lid and extra wall insulation allow for ice to stay frozen for up to 5 days, even in temperatures as high as 90°F. This makes it a great choice for outdoor activities such as camping, tailgating, and beach trips.
In terms of capacity, the cooler holds up to 84 cans, making it a great option for large groups or events. The heavy-duty wheels make it easy to roll over any terrain, and the telescoping handle allows for easy pulling and compact storage.
Additionally, the "have-a-seat" lid can support up to 250 pounds, making it a convenient option for seating or as a surface to place food and drinks on. The lid also features molded cup holders, keeping drinks close and preventing spilling.
Overall, the Xtreme Technology cooler from Coleman camping fridge is a versatile and reliable option for those in need of a high-performing cooler. Its impressive insulation and capacity, coupled with its convenient features such as the "have-a-seat" lid and cup holders, make it a great choice for outdoor enthusiasts and large groups. The heavy-duty wheels and telescoping handle make it easy to transport and store.
Aspenora Portable Fridge Freezer
Price: $349.00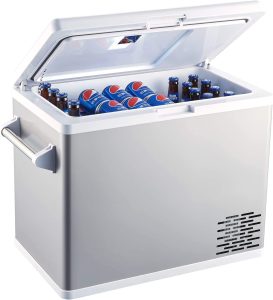 If you're looking for the best portable refrigerator, then the Aspenora portable fridge freezer is great option for you. Every unit is equipped with an interior LED light. This refrigerator has a lower and upper freezer compartment.
The latest generation of the portable freezer, version 2.0, offers great improvements over the previous model. With an increased capacity of 37 quarts, it has 7 quarts more space than the 30-quart 12v refrigerator of similar dimensions.
t has impressive cooling power and the advanced design includes two compartments, one smaller refrigerated area and a large, deep freezer area, which allows for better space utilization and the ability to store more food for your family's outdoor travels.
If the surrounding temperature gets too high, the thermoelectric cooling system won't be able to keep the inside temperature as low.
The intuitive control panel is user-friendly and allows for easy selection of Eco or Max modes and battery protection. The eight responsive touch control buttons and bright LCD display make it easy to set the exact temperature to suit your needs, and the locking feature prevents accidental changes.
The USB charging port also allows for charging personal devices such as phones and tablets. It's perfect for family trips, car camping, and days out at the beach.
The aluminum core design makes the compressor run more efficiently, and the 1.57-inch thick insulation allows the car cooler to maintain cooling for 10 hours after power is turned off. This also extends the compressor's life. The battery protection feature prevents your car battery from being exhausted.
And the compressor will power off when the input voltage is lower than the minimum voltage. This portable freezer is great for storing food without the need to buy ice. The drain plug also makes it easy to clean the interior.
Final words
A portable camping fridge is an essential piece of gear for any camping trip. It allows you to keep your food and drinks cold while you're out in the wilderness. When it comes to choosing a camping fridge, there are a few things to keep in mind such as the size, type, and brand.
By considering these factors, you'll be able to find the perfect camping fridge for your needs. And by following the tips on how to use your camping fridge properly, you'll be able to get the most out of your camping fridge and enjoy your camping trip to the fullest.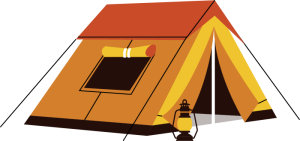 Outdoor Awaits is supported by its readers. We may earn an affiliate commission if you use our links to purchase a product(s) at no additional cost to you. To know more about us and learn how we tested the outdoor gear on our FAQ page.