Are you a fan of outdoor activities but hate the stress of pitching a tent? Well, you're in luck—no more struggling to put up your camping abode. Instead, check out the hanging tree tent—the perfect blend of indoors and outdoors!
Our Top 7 Hanging Tree Tent Picks
If you want to access them quickly, please take a look at our list of the best hanging tree tents.
Perfect for any terrain or season, these tents make staying outside easier than ever before. With 7 jaw-dropping models to choose from in our hanging tree tents collection, there's guaranteed to be one that will fit both your style and needs! Read on for our favorite models so that you can find one that fits your wildest dreams!
Reviews of the Hanging Tree Tents For Adults & Kids
TreePod Lounger Hanging Pod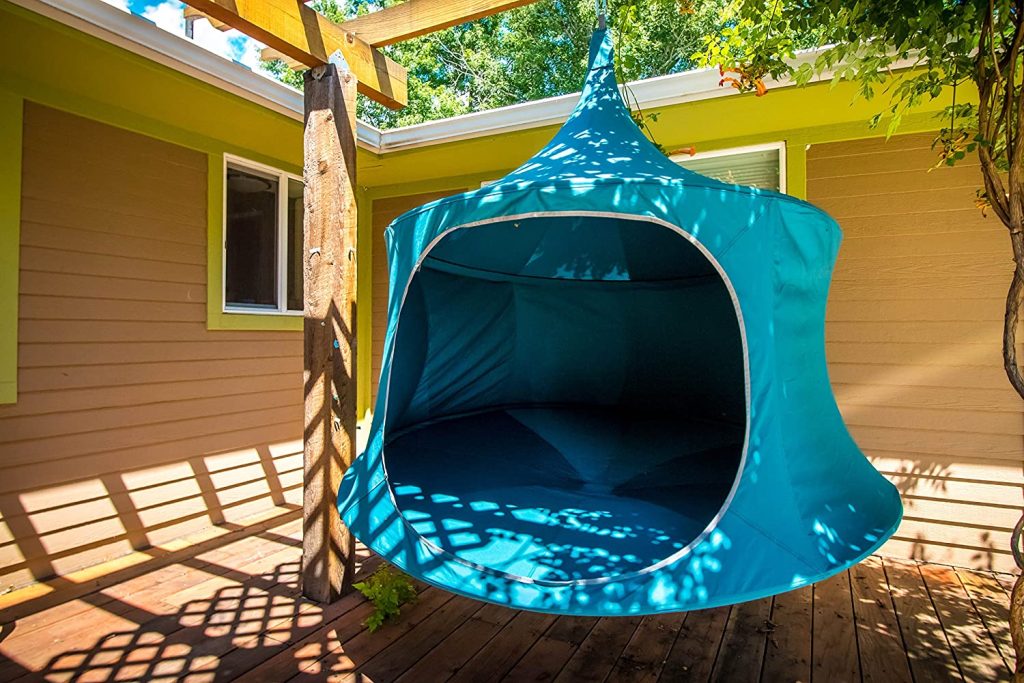 TreePod Lounger is a revolutionary hanging tree tent designed to provide superior levels of comfort, convenience, and relaxation. This unique suspended tent offers an unparalleled lounging experience, creating a safe and secure living space without the need for traditional ground tents. It features fabric walls that provide shade and coverage from the elements, making it perfect for outdoor recreation or adding character to any room at home.
The TreePod Lounger camping hammock is light-weight and easy to assemble in minutes, allowing you to quickly and easily set up a relaxing spot wherever you go. It is also UV-treated and water-resistant, giving you years of enjoyable lounging experiences.
With its 500lb tensile strength, the Lounger can comfortably accommodate several people or pets for a fun adventure. Available in three sizes and six colors, the TreePod Lounger is sure to be an eye-catching addition to any outdoor atmosphere or indoor esthetic.
If you loved to sleep in the nature you can consider this tree tent. Carry a mosquito net with this hammock and hangover with the right trees to make your hammock adventure are memorable with your kids.
HearthSong Hangout HugglePod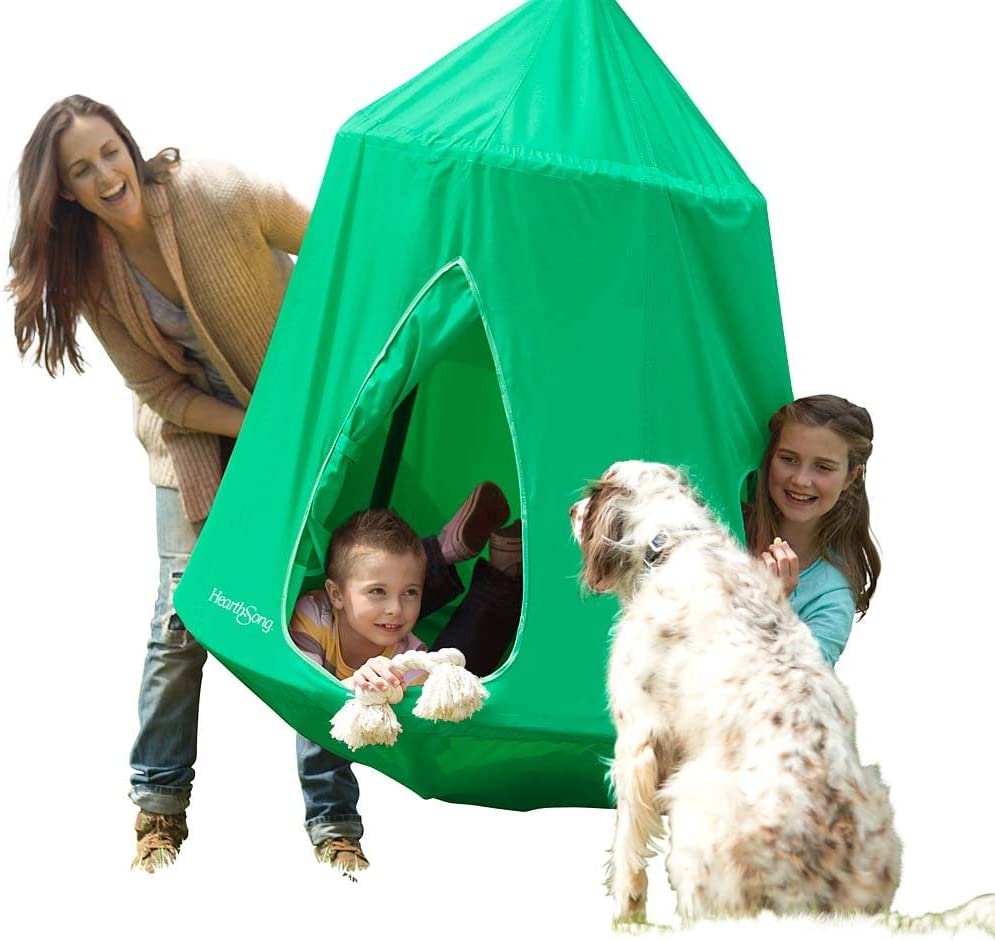 The HearthSong Hangout Hanging tree tent is a great way to get kids outdoors and enjoying nature while having fun. This portable tent is easy to hang from a sturdy tree branch and can be quickly transported in the included duffle bag.
It features three porthole windows and a tie-back doorway for ventilation, so kids can play for hours without feeling too hot or stuffy. The interior of the tent is also lit up with a string of LED lights, creating an exciting atmosphere for imaginative play.
Constructed from durable UV-tested polyester, this green hanging tent is designed for active play and can withstand rain, wind, and other weather conditions. Whether you are at home or outdoor, it provides your kids with their own private space where they can read books, make believe with friends, or just relax during nap time.
Plus its portability makes it ideal for taking on trips to grandparents' house or family parties. It also includes strong rope that makes much pretty. The diameter of this tree tent is 45 x 45 x 54 inches.
Happybuy Hanging Tree Tent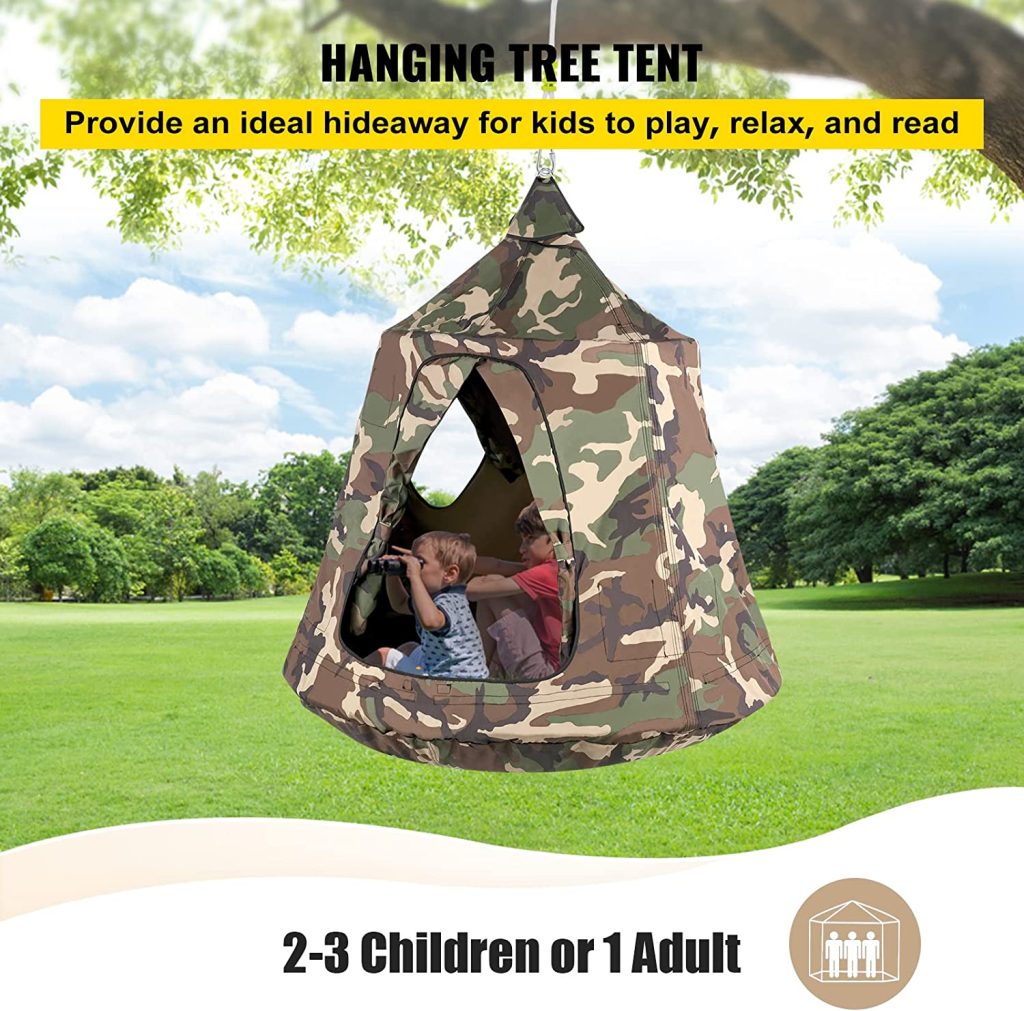 The Happybuy Hanging Tree Tent is an ideal choice for anyone looking for a unique and adventurous winter camping experience. This tree tent is made from a sturdy 600D polyester canvas with double-stitched corners, making it breathable and waterproof.
It also has three porthole-style windows for excellent air ventilation as well as a flap door with velcros for convenient access. The matching inflatable PVC cushion provides optimal comfort while you take in the stunning views of nature that surround you.
In addition to its unique design, this hanging tree tent is also extremely safe and reliable. It's designed to be able to hold up against strong wind and protect you from both the sun and rain.
Finally, the Happybuy Hanging Tree Tent comes with a hanging hardware kit that includes adjustable hanging rope, carabiners, a two-layer tent top, inflatable cushion, inflator, sponge shaping tubes and expansion screws. It can sleep easily 2-3 kids and play in this tent. The tent also works for both adults and kids, hope you will love.
HAPPYPIE Hanging Tree Tent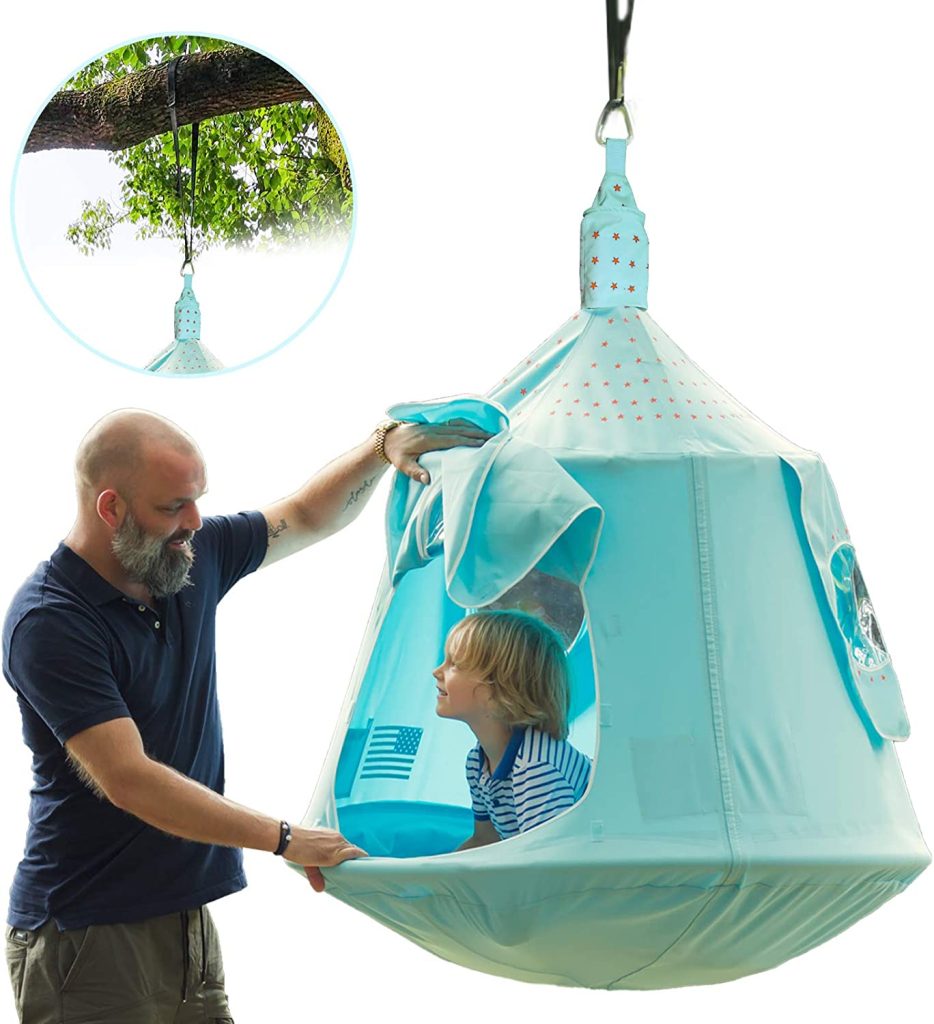 If you love hammock tree tent for camping into the wild, then this portable hammock is right for you. The HAPPYPIE Hanging Tree Tent is an innovative and exciting new way to experience the outdoors.
This tent offers so much more than traditional ground tents, with its portability, stability in windy conditions, privacy and protection from sun and rain. It's also designed with children in mind, as it comes with LED lights that add to the atmosphere of the outdoors at night.
The tent is made of 600D heavy-duty polyester canvas and boasts a maximum capacity of 330lbs, making it strong enough for multiple adults or several children to enjoy at once. And best of all, it's lightweight and easy to store for ultimate portability, allowing you to take it anywhere you go.
When using the HAPPYPIE Hanging Tree Tent, all that is required is some simple tools and a place to hangover. With its lifetime warranty, you can rest assured that your tent will last you a long time. So if you're looking for an exciting and unique way to experience the outdoors, look no further than the HAPPYPIE Hanging Tree Tent. It's sure to provide hours of fun for everyone in your family.
OrangeA Hanging Tree Tent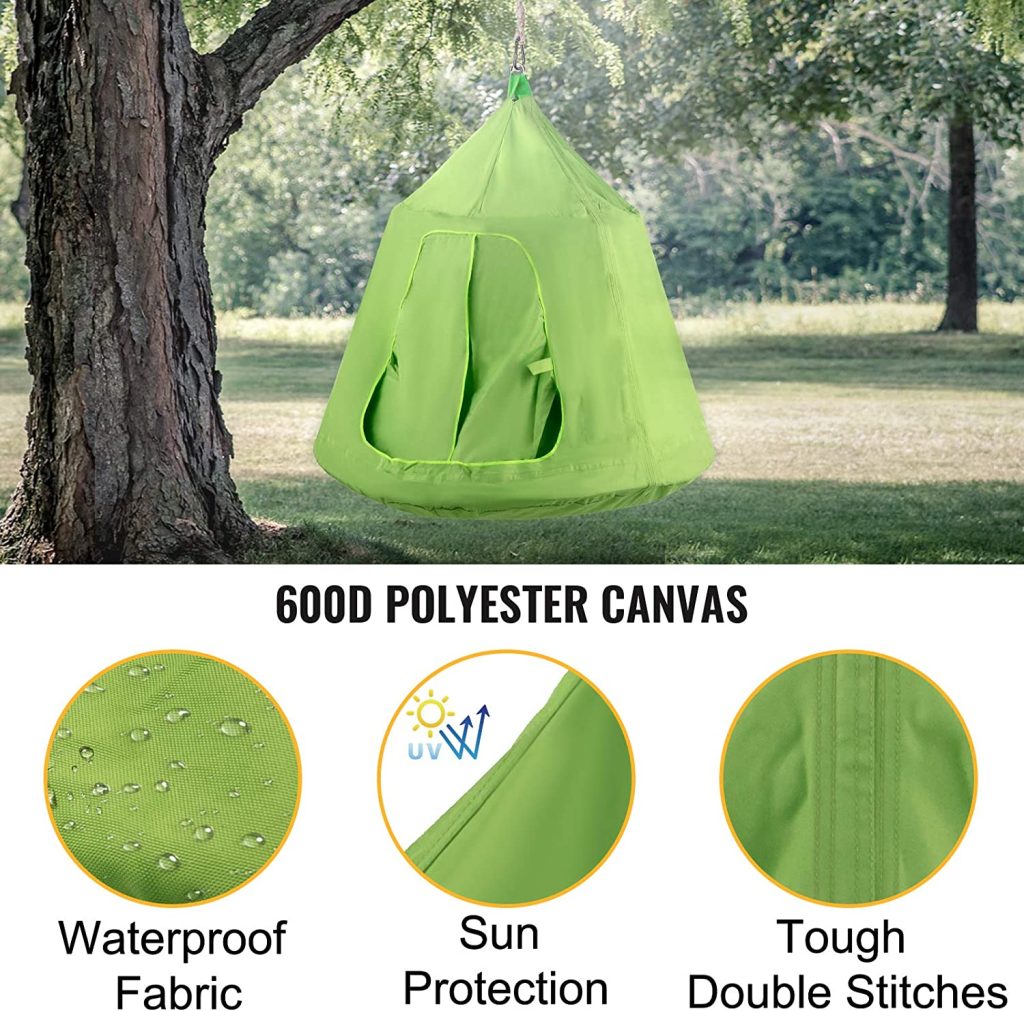 The OrangeA products is perfect for those who are looking for a unique camping experience. This tent offers several advantages over traditional ground tents, as it is much more portable due to its ability to be hung from a tree, and also provides greater protection from the sun and rain. Additionally, it features a reinforced metal ring that can hold up to 440 lbs, making it suitable for 2-3 children at once.
This tree tent is made of heavy-duty 600D polyester canvas which is water-proof and UV blockers. It has three porthole-style windows for ventilation along with a velcro flap door for easy access. Inside the tent, you'll find a plump removable PVC cushion that adds to the comfort level of the tent. To add to the ambiance there are even LED lights inside so kids can enjoy their own private world under the stars.
The hanging tree tent is light-weight and easy to hang almost anywhere. It even comes with its own hanger so you can easily take it camping. The structure of this kids friendly play space pops back into its classic hangout shape during setup thanks to its lightweight boning.
Not only does this special ultra-portable hanging tent provide exciting spaces for kids of all ages, but it also helps calm overstimulated children with its peacefulness while they're safely suspended in air. In addition, because this tent is big enough for multiple kids, they can easily share in playtime enjoyment with friends and family members alike.
VEVOR Hugglepod Tree House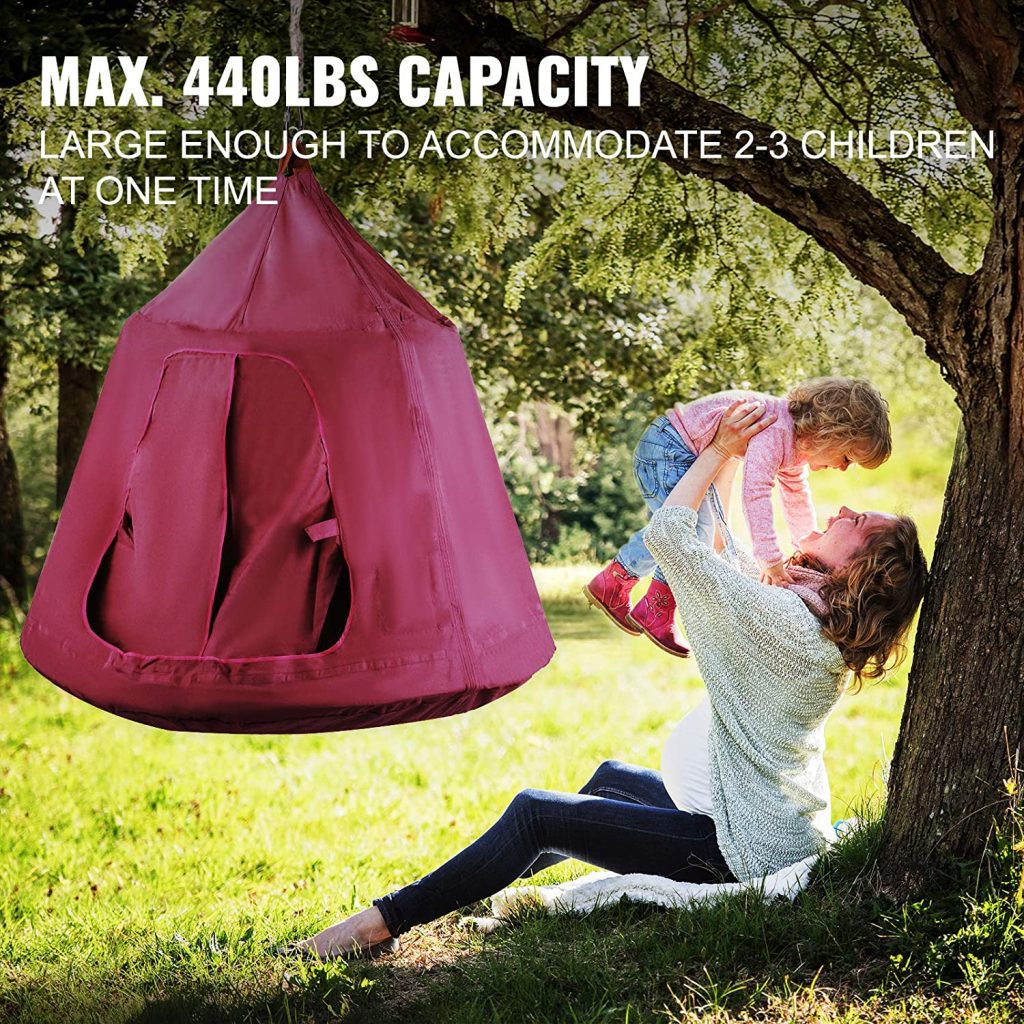 The VEVOR Hugglepod is an incredibly unique hanging tree tent that provides a comfortable and secure place to rest or play. This tent is made from sturdy 600D polyester canvas and is double-stitched for strength. It has three porthole-style window for excellent air ventilation and a flap door with velcros for convenient access. The matching inflatable PVC cushion gives you the most comfortable support, allowing you to enjoy your time in the tree tent without worry.
The tree house tent has an impressive diameter of 43.4 inches and a total height of 46 inches, providing plenty of spaces for up to two kids. Additionally, its maximum weight capacity is 440 pounds; meaning it can easily withstand heavy use over long periods of time. To top it all off, the hugglepod tree tent comes with a colorful 16-bulb LED string, a beautiful and romantic accent to your small tent world.
This tree house is great for both outdoor and indoor uses – hang it under a tree in your backyard. Its installation is easy too – simply hang the pod using the adjustable hanging ropes, carabiners. And included expansion screws – everything you need to set up this amazing tree tent is provided in one kit!
The VEVOR products is right for those looking for fun experiences outdoors with their kids. Whether it's a game of hide-and-seek or just lounging around enjoying nature's beauty. This unique hanging tree tent will make your outdoor experience memorable!
Trekassy Tree Swing Tent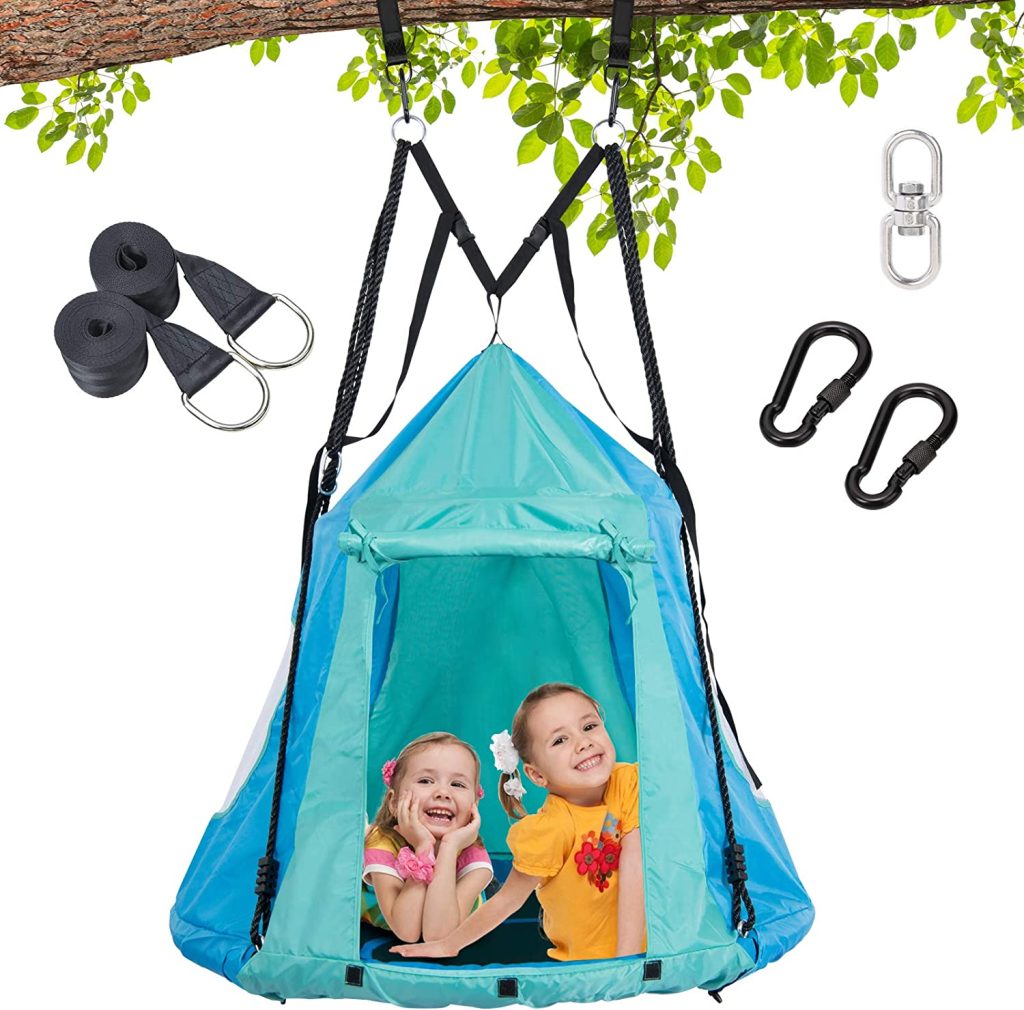 The Trekassy Tree Swing Tent is an amazing way to enjoy the outdoors in a unique and exciting way. This hanging hammocks is a great choice for those looking for an outdoor experience. As it offers a level of privacy not often found in traditional ground tents. The tree swing tent features a 40″ 700lbs swing seat and a 40″D x 52″H detachable hangout play tent, allowing you to lounge inside with spacious spaces.
The swing seat itself is made of waterproof oxford fabric and sturdy galvanized pipe, which can support up to 700lbs, making it strong enough for multiple kids for winter camping. The play tent is made of UV-resistant material, so you can avoid too much exposure to the sun and heat.
And the screen window and rolling doorway allows for optimal ventilation while also giving your little ones some privacy. The Trekassy tree swing tent also includes both swivel and hanging straps, providing you with plenty of ways to serve swinging or soaring in the great outdoors. You can use this hammock tree tent with your kids in the wind and any weather conditions.
Camping Hammock
If you love setting up your hammock every night but find traditional tents aren't the best place to do so because of all their weight, then the Camping Hammock may be the answer you've been looking for. It's a hammock that takes advantage of nature and the tree it's hanging from, and once set up, it is as comfortable as a traditional hammock. Compact enough to fit into your backpack, it comes with its own carry bag so you won't have to worry about carrying anything extra while camping.
Final words
With so many options on the market, it can be hard to know which hanging tree tent is right for you. We've highlighted eight of our favorite tents, from kid-sized versions to larger models perfect for adults. So before you go out and buy your next outdoor gear, take a look at our list and see if one of these tents is right for your next outdoor adventure.
You may also like: The 12 Best Hot Tents With Stove Jack and Essentials of Outdoor Recreation.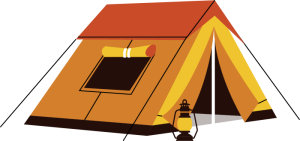 Outdoor Awaits is supported by its readers. We may earn an affiliate commission if you use our links to purchase a product(s) at no additional cost to you. To know more about us and learn how we tested the outdoor gear on our FAQ page.