Are you looking for the best teepee tent for camping? You've come to the right place! Teepee tents are a classic and iconic way to experience outdoor life in style. Combining modern technology with traditional concepts has led to the creation of the most comfortable and convenient teepee style camping tents available for camping enthusiasts.
Finding a quality tent within a budget is a difficult task, but not impossible. After a long period of research, I finally got some good quality teepee tents that are windproof and can be used freely. Here are sixteen of the best teepee tents that can be used for winter camping and in any weather condition without sustaining any damage.
So take a look and share your opinion about your favorite tent.
Reviews of the Best Teepee Tent for Camping
1. Yurtent Adult Indian Teepee Tent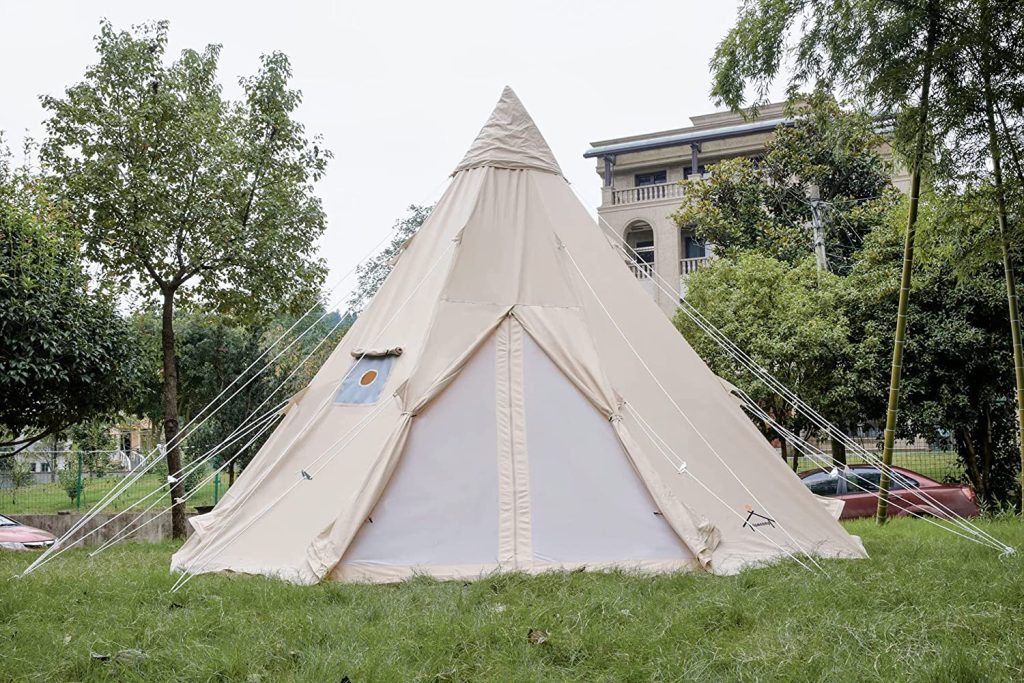 The Yurtent is one of the best teepee camping tent on our teepee tents list. The Yurtent Adult Indian Teepee Tent is a luxurious and spacious camping shelter that provides an abundant capacity and clearance for up to 8 adults. This large tent is the perfect choice for family camping trips, BBQ outings or family parties.
Constructed from premium materials such as a 280g 100% cotton canvas and 540g PVC groundsheet, it is designed to be thick and durable to withstand heavy rain or strong wind.
With a diameter of 16.4ft (5m) and top height 11.5ft(3.5M), this tent is roomy enough to fit a double bed and nightstand while also tall enough for adults to stand upright, providing comfortable living conditions for all.
Additionally, the tent also features a 4'5" stove jack on the roof of the left door, allowing you to set up a wood stove in order to keep warm during those cold days.
There are also zips located behind each window and mesh covering so that you can enjoy excellent ventilation and airflow without any unwanted insects entering your living space. With only a single central pole, the tent can be easily put up by yourself within 10 minutes.
2. Pomoly HEX Plus Hot Tent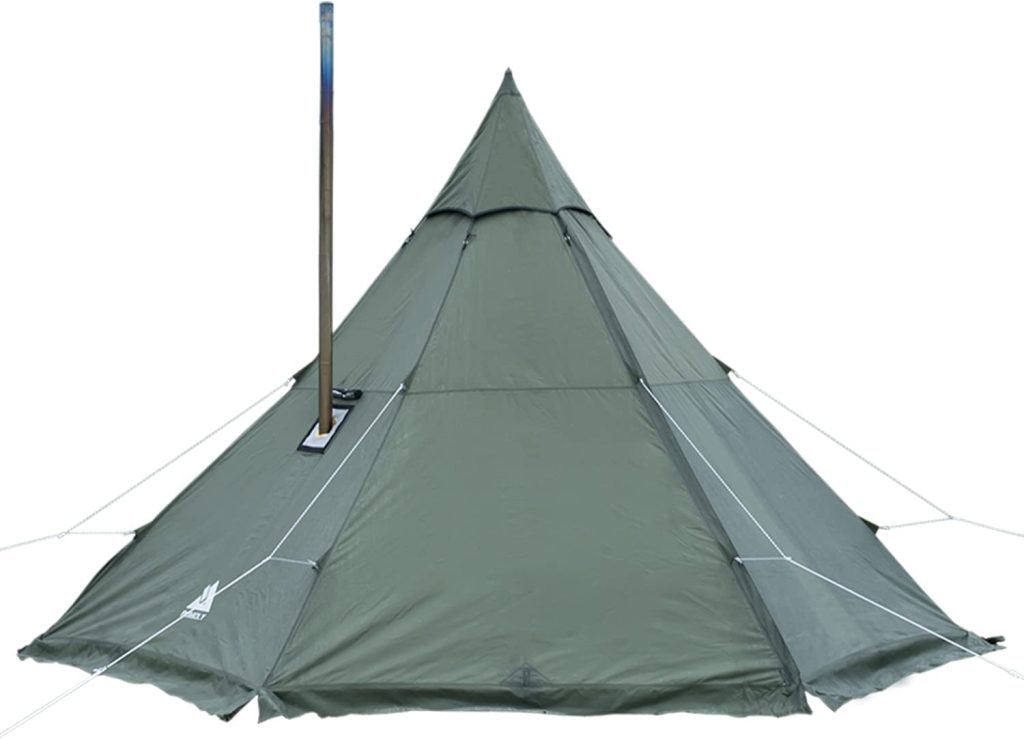 The Pomoly HEX Plus is the best teepee tents for anyone looking to get the most out of their camping experience. This Pomoly 6 person teepee tent offers a unique blend of comfort and privacy that cannot be found in other tents.
It features a impressive waterproof rating, anti-wear and tear-resistant material that ensures it will stand up to whatever nature throws its way.
It has a removable cap which allows you to exchange air with the outside environment, providing more fresh air and reducing smoke build up inside.
Additionally, it comes with a wood stove jack which gives you the option of outdoor cooking using the cooking kit and ensures a warm camping home during cold weather.
The tent also features two doors for easy entry, great ventilation, bathtub floor and exit as well as a half inner tent for creating a separate sleeping space that is incredibly breathable and private.
For added stability, the Pomoly HEX Plus Hot Tent can be weighted down with rocks or soil on each corner which helps make the tent more airtight, preventing cold air from entering during winter months.
Whether you're an experienced camper or just starting out, the Pomoly HEX Plus Hot Tent is an excellent option for anyone looking to take their camping experience to the next level.
With its unique blend of comfort and privacy, this tent has everything you need to ensure you have a comfortable stay in nature.
3. DOD Ichi One Pole Tipi Tents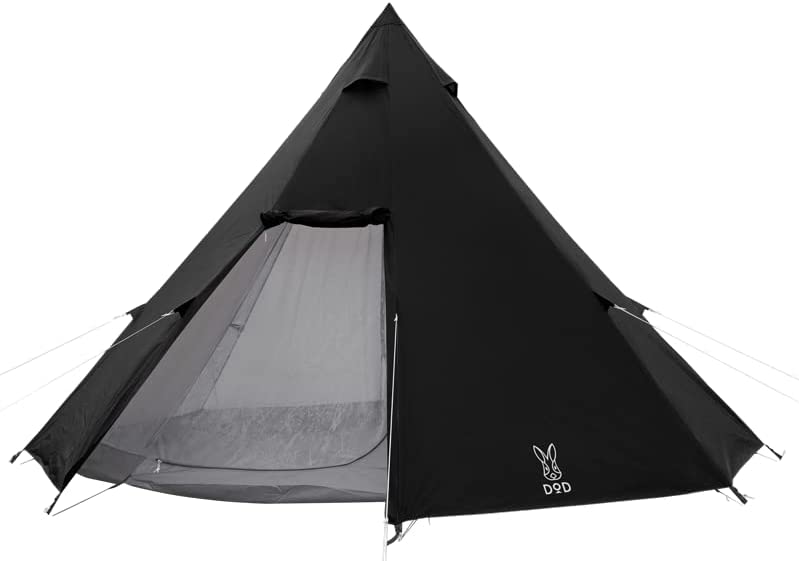 The DOD Ichi is one of the most popular and best tipi tents on the market. This single pole design combines ease of setup with ample headroom and plenty of floor space.
With a giant front door and multiple vents around the peak, this tent will keep you cool in summer while also making sure that you are warm and dry during bad weather.
The interior mesh tent with sewn-in floor keeps insects at bay, while the outer fly provides an extra layer of protection from the elements.
The Ichi is perfect for camping, overlanding, or simply having fun in your backyard. It can sleep up to five adults comfortably, and has a spacious interior that allows you to stand up straight so you don't have to pull your pants on sitting down.
Furthermore, this tent can be set up without any tools or additional pieces – just one pole and some sturdy stakes are all you need! And when it's time to pack up, simply fold it back into its convenient carry bag for easy storage and transportation.
Finally, if you're looking for something lightweight tent that packs down small then this is definitely worth considering as well; its combination of polyester fabric, steel poles and ropes mean that it won't take up too much space in your backpack.
4. Guide Gear Deluxe 18′ Teepee Tent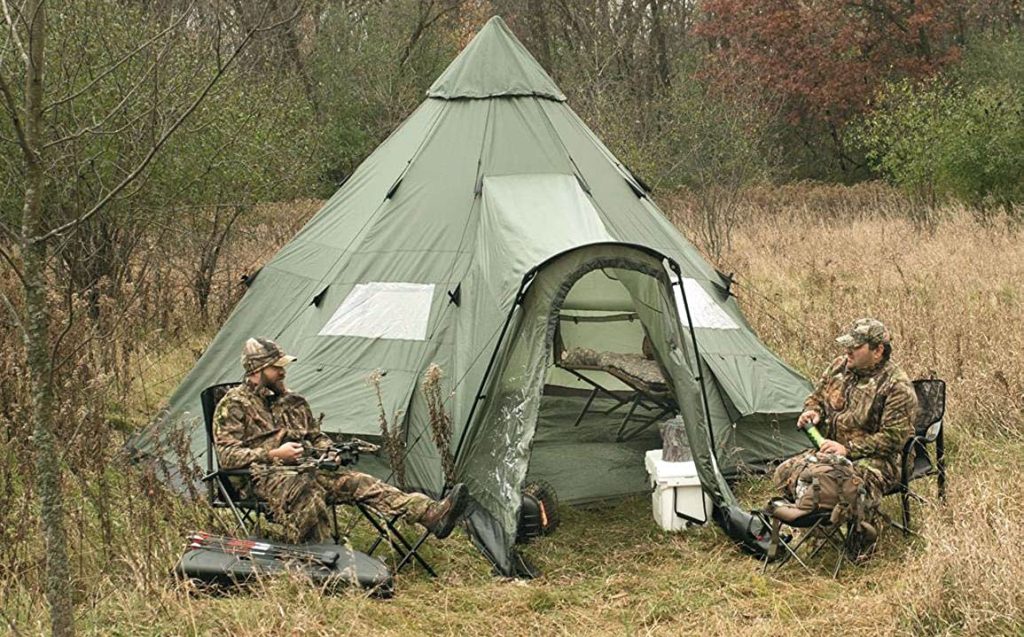 The Guide Gear Deluxe is another best teepee tents for those looking to experience the best of camping. This camping tent is perfect for those that want an authentic camping experience while still having some privacy and comfort.
It is designed to sleep up to eight people, plus room for gear, and provides plenty of room thanks to its large design. It has a sewn-in polyethylene floor which provides a sturdy base with no need for a ground tarp.
This 8 person teepee tent is made from heavy-duty 190-denier polyester shell with 1,000mm polyurethane coating making it waterproof rating. It also comes with weatherproofed windows with internal shades for added privacy and security.
The Guide Gear Deluxe is incredibly easy to set up as it features an instant pop up design. All you need to do is position the steel center pole, stake out the guy lines and your basecamp will be complete in no time!
This tent also features great insulation properties that keep the heat in during cold months, keeping you safe and warm when temperatures start to drop at night.
The Guide Gear Deluxe also features mesh door panels which allow air circulation while keeping unwanted bugs out so that you can get some peace and quiet while sleeping outdoors.
Overall, the Guide Gear Deluxe is another great teepee tents for camping in the wild. It's an excellent choice if you're looking for a roomy and comfortable camping experience.
With its quick-up design and included carrying bag, this tent offers great convenience as well as impressive waterproof rating and bug-resistant for added peace of mind when camping outdoors!
5. Tahoe Gear Bighorn XL Teepee Tent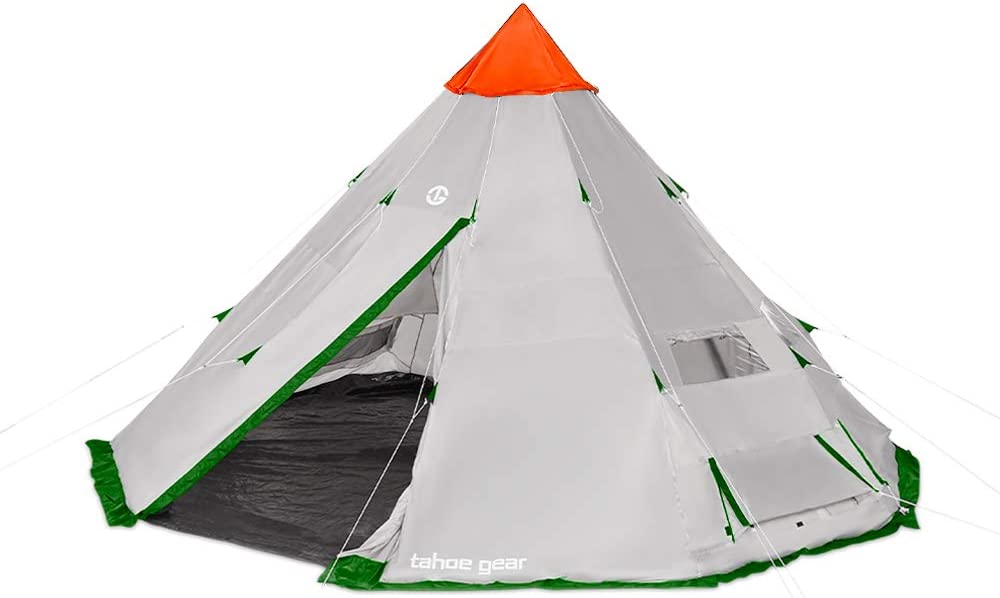 The Tahoe Gear Bighorn XL is one of the best teepee tents for camping in any harsh weather conditions.
It is the perfect combination of weight, size and protection from the elements, making it an ideal tent for great outdoors.
Its cone shape allows rain and debris to easily slide off without compromising its weatherproofing. It includes a convenient carry bag, steel pole and stakes for easy setup.
The Tent features four PVC windows that provide plenty of ventilation while keeping out the elements. The roof panels are made from mesh, ensuring good air flow in hot summer days.
Additionally, there are multiple floor vents which allow air to pass through as well. The fabric is also water resistant so you don't have to worry about getting wet inside the tent no matter what kind of weather you're dealing with.
When it comes to interior comfort, this tent offers plenty of space for up to eight people to sleep comfortably.
It also has over 6 feet of headroom so you won't feel cramped while inside. And since it's a teepee tent, you don't have to worry about any poles or stakes getting in the way of your sleeping bag and other camping gear.
Overall, if you're looking for a reliable and comfortable tent that offers plenty of protection from the elements, then the Tahoe Gear Bighorn is an excellent option. With its lightweight design and high quality fabric, it's sure to provide you with many years of enjoyable camping trips.
6. OneTigris Rock Fortress Teepee Tent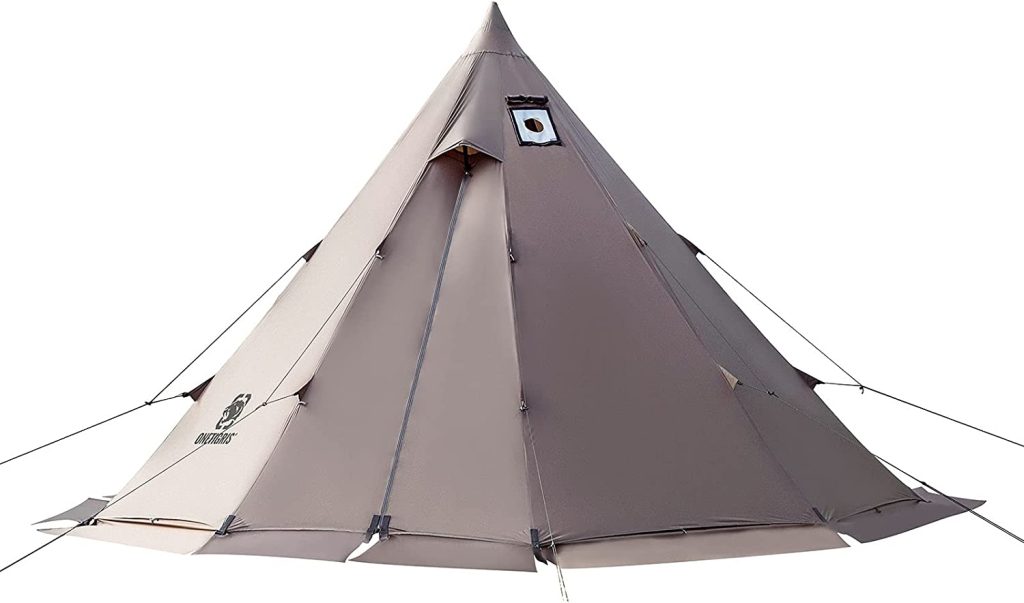 The OneTigris Rock Fortress Teepee Tent is the perfect choice for camping enthusiasts looking for a unique and authentic camping experience. This versatile hot tent provides four season protection, with a wind-proof snow skirt and heat retention functionality to keep you warm during cold weather.
It is made of durable 70D coated nylon fabric with a waterproof rating of 3000mm, giving it excellent protection against the elements. The tent also comes with an aluminum alloy tent pole which ensures stability and durability.
The OneTigris Rock Fortress offers plenty of room for up to 6 people, measuring 12.4ft in diameter and 7.8ft in height. This allows you to move around freely inside the tent without feeling cramped. The canvas teepee is similar to some other tents that made by durable materials.
It also features two doors equipped with quality snag-free YNS waterproof zippers, providing easy access to the interior as well as ample ventilation to ensure that you don't feel stuffy inside and taped seams for added durability.
In addition to its spacious design, the OneTigris Rock Fortress also includes several accessories that make setting it up a breeze.
It comes complete with a setup kit containing one tipi tent, an aluminum alloy tent pole, a stove jacket, 24 tent pegs and 10 guy-lines so you can secure the tent properly on any terrain.
Overall, the OneTigris Rock Fortress is an excellent choice if you are looking for an authentic camping experience that offers both comfort and privacy while enjoying nature at its finest.
7. Preself Tipi Tent with stove jack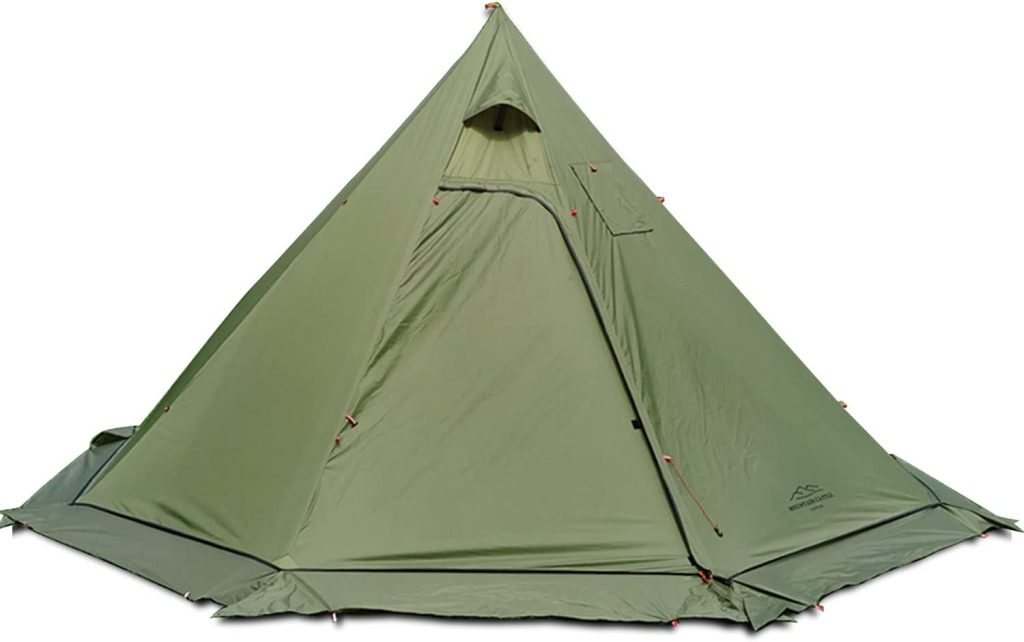 The Preself Tipi is the best teepee tents for those looking for an classic teepee tents. This spacious tent is made of PU2000 waterproof polyester, making it both durable and reliable in all seasons.
With a standing room height of 7′ 3″ and a bottom diameter of 13′, this tent can comfortably fit up to four adults or two to three with a stove.
For added safety, the Preself Tipi Tent has been designed with a fire retardant stove jack that allows you to use stove pipes without risk of burning the tent fabric. Additionally, there are two large air vents for great ventilation, as well as double doors for easy entry and exit.
Its anti-tear 210T patterned polyester and PU2000mm (waterproof rating) waterproofing make the tent resistant to strong winds and rain.
At only 5 lbs., this lightweight tent is small enough to bind onto your backpack, making it easy to transport wherever you go. Setting up this 4 person teepee tent is incredibly easy. It takes about 10 minutes and can be done by anyone.
To set up correctly, place the pole head on the peak loop and secure the bottom loops with stakes at the end of pole.
This affordable teepee tent comes with a one year limited warranty against any quality related issues. So if you're looking for an authentic camping experience in all four seasons without sacrificing comfort.
8. LETKIND 6 Person Teepee Tent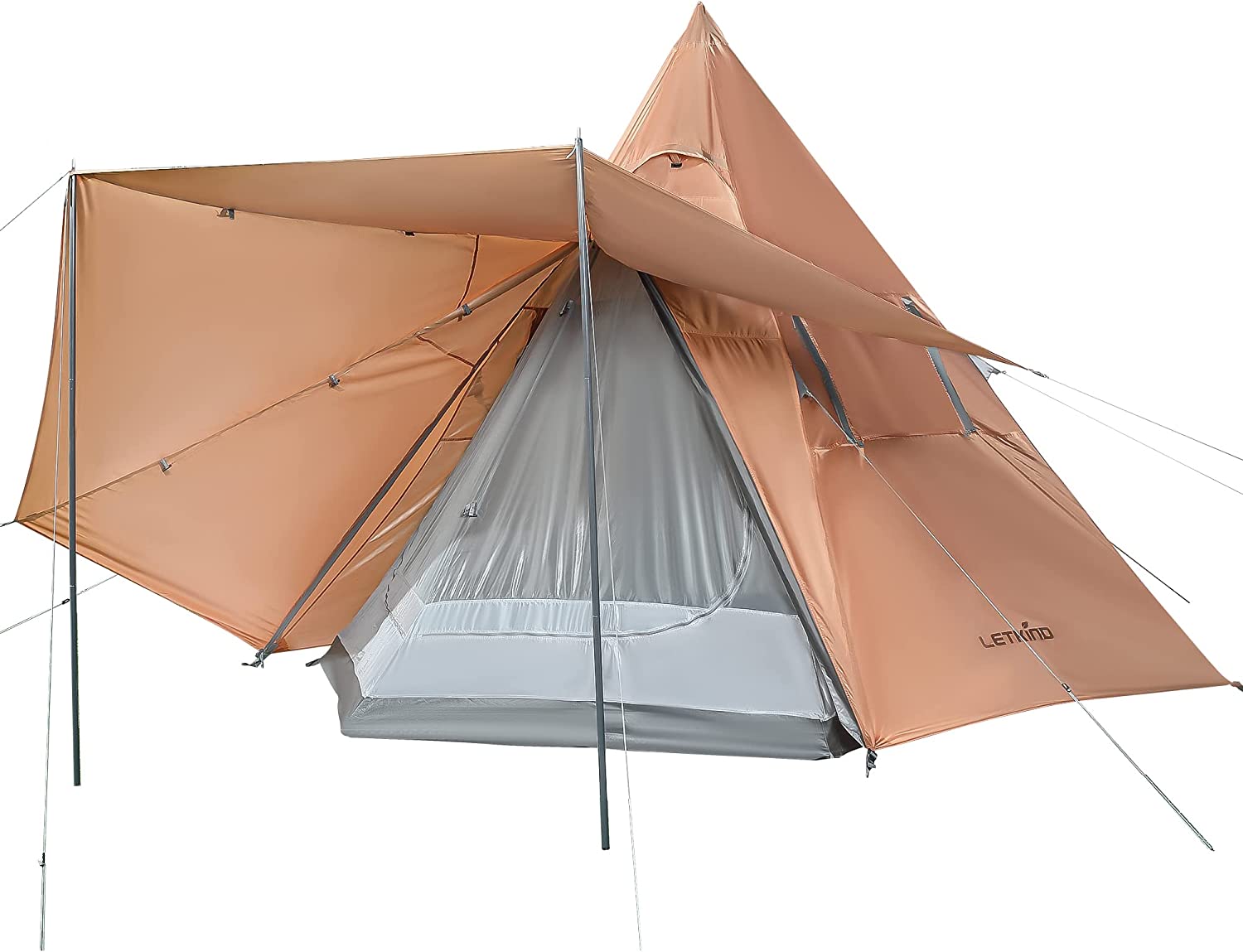 The LETKIND 6 Person Teepee Tent is the perfect choice for camping and backpacking adventures. It comes with a reinforced travel bag that makes packing up easier than ever, at a lightweight 14 pounds.
Setting up the camping tent is quick and easy; anyone can do it within 10 minutes.
The teepee shape with a double bigger door design and double zipper structure provides generous height and the adjustable porch awning and crosswind protection ensures comfort.
The double-layer detachable design with enough enclosed space and height inside makes it versatile as either a tent.
The aluminum central pole provides sturdy structural support, reinforced with windproof ropes and steel pegs. It has all the accessories with a pair of hanging organizers.
The inner tent is designed with a high-density mesh structure to provide excellent views and good airflow while preventing insect bites, complemented by two additional mesh vents for improved ventilation.
With this 6 Person Teepee Tent, you'll have an realistic camping experience in all four seasons without sacrificing comfort.
9. Guide Gear 6 Person Teepee Tent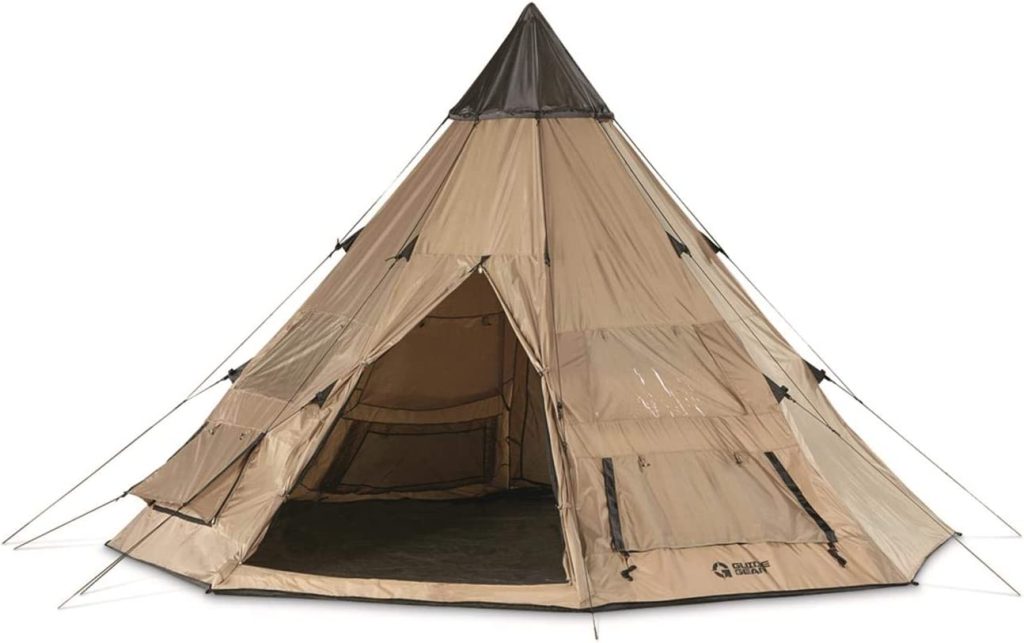 This is another modern teepee tents from the Guide Gear Brand. The Guide Gear Teepee Camping Tent is the perfect camping companion. It's a 14′ x 14′ tent with a center steel pole that makes set up quick and easy.
And it's made from durable and high quality materials. The polyester shell and polyurethane waterproof (waterproof rating) coating has a sewn-in tent floor with factory-sealed seams to keep you dry and safe in all kinds of weather.
The adult teepee features two built-in windows with internal shades for privacy when needed, as well as rain-proof ventilation at the peak and multiple ground air vents to help keep cool during summer.
The large camping tent fits up to 6 people comfortably and offer plenty of room for all the family and their gear.
Extra-wide door entrances make it easy to load your bulky gear, so you can get ready for your next camping adventure with ease. 1 Year Limited Warranty against any quality related issues. Enjoy the great outdoors in style with Guide Gear Camping Teepee Tent!
10. KAZOO 8 Person Teepee Tent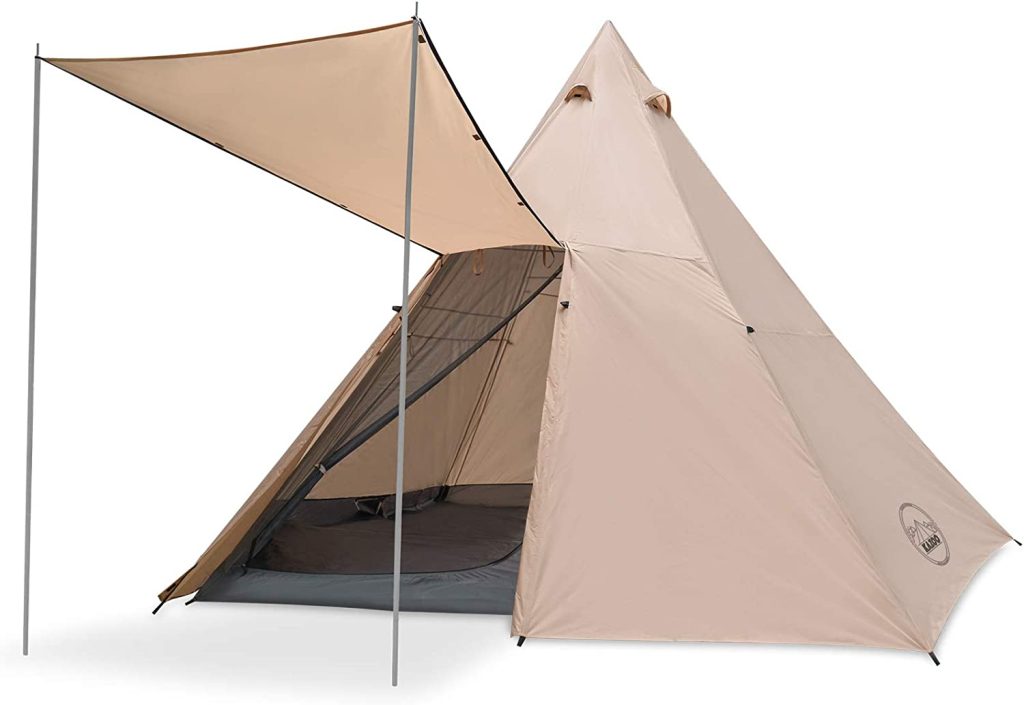 The KAZOO Family Teepee Tent is the right tent that provides an excellent capacity and clearance for 8 adults. This large tent is a great choice for family camping, BBQ outings or family parties.
The tent utilizes premium materials to ensure long lasting performance with a sturdy structural support due to the anti-rust iron central pole. It has a double-layered design that consists of a mesh interior and a waterproof rain fly, with a 3000mm waterproof rating for maximum waterproof protection.
Most tents are made by polyester floor, but it's designed with cotton fabric. And this is a new tent in the market. You can also use each layer separately as a standalone shelter or sunshade according to your needs.
The zipped door can be propped up to make a nice sunshade, while the ceiling vents provide extra airflow.
11. Latourreg 2 Person Teepee Tent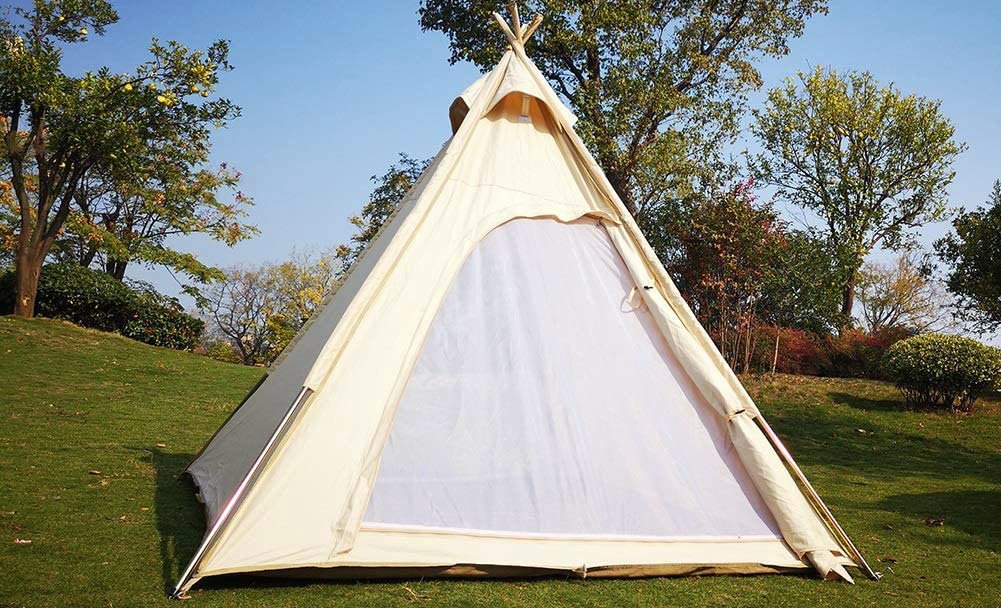 The Latourreg 2 Person teepee style tent is one of the best teepee tents for camping and outdoor activities. Constructed from 285gsm beige cotton canvas (cotton fabric) with waterproof rating (PU 3000mm coating) of tent body, along with a non-detachable 540gsm PVC ground vents.
This cotton canvas tent is designed to be thick and durable to withstand heavy rain or strong winds.
Its open dimension of 215cm (Length) x 215cm (Width)x 200cm(Height), with a square base and pyramid shape, can accommodate 2 people with sleeping bags or 2 people with air mattresses (bed size of 152x203cm).
It has five ventilation windows on the top to circulate air and keep breathable, and two doors for easy access, both with canvas flaps and mesh windows.
The tent is also incredibly easy to set up with a single central pole, and can be done by one person in just minutes.
It is advisable to use the Latourreg Teepee camping tent only on sunny days as the seams at the top intersection may not be completely weather resistance. To ensure a long life of your tent, please keep it clean and in a bone-dry condition when storing it.
This product includes just the tent itself, excluding any decorative furniture. With its great quality and convenient setup, the Latourreg Teepee Tents is a affordable tent better than other tents.
12. FireHiking Ultralight Teepee Tent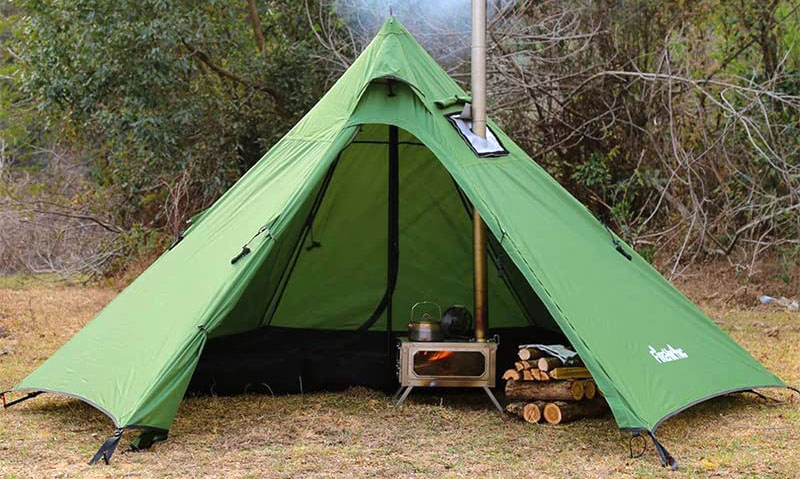 The FireHiking Tent is lightest tent from out modern tents list. The FireHiking brand provides smaller tent like this solo tent. The most modern teepee tents used durable materials than other roof vents. Made of fiberglass cloth with a flame retardant coating, this tent offers protection from open flames or sparks that could potentially burn the tent fabric.
The stove jack is easily detachable, allowing users to replace it as needed.
The backpacking tent also comes with a half inner mesh to protect campers from mosquito bites and increase privacy. The top vent is supported by a POM rod which can be fully expanded for air circulation, while the single door design provides warmth and comfort.
The FireHiking Teepee Tent only weighs 5.18 lbs., making it ideal for carrying in your backpack with ease. Setting up the tent is simple and takes only a few minutes.
The adjustable ground buckle at the bottom makes it easy to adjust for optimal setup, while the knot on top allows you to secure it with ropes. Match it with a single titanium firewood stove and you will enjoy a hot and cozy camping experience.
Many tents don't have stove hole, but this great tent has a stove hole with enough interior space and good ventilation windows.
The Preself Tipi Tent and FireHiking Teepee Tent both offer campers comfortable and safe camping experiences with their flame-retardant fabrics, mesh nets for ventilation and insect protection, adjustable ground buckles and knotted tops for easy setup.
13. Latourreg 4 Season Tipi Tents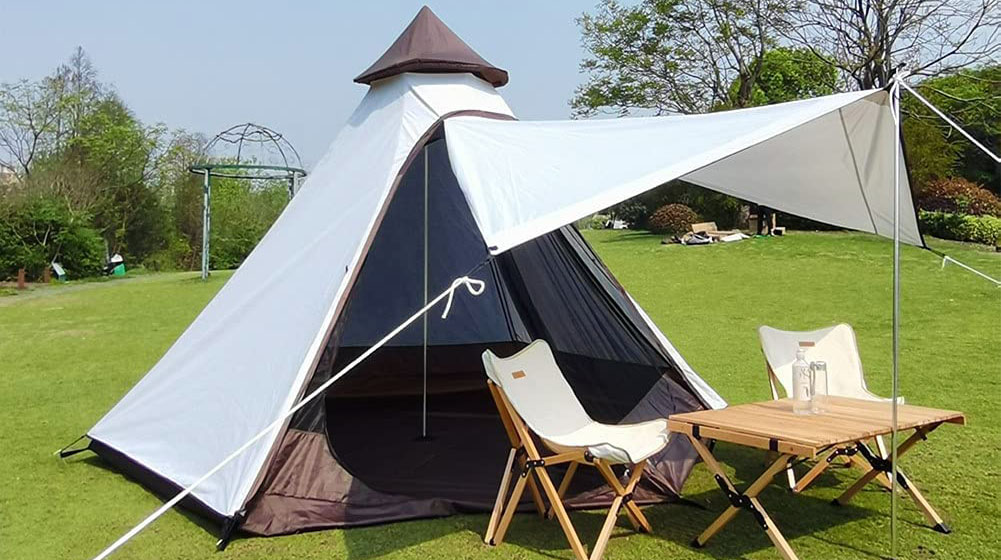 The Latourreg 4 Season Tipi Tent is the perfect solution for those looking for an authentic camping experience year-round. With a conical appearance and Hexagon base, these tents is made of anti-tear 190T polyester on the outside and 150D Oxford fabric on the inside.
It can comfortably fit up to four people with sleeping bags. Its premium anti-rust steel poles provide a sturdy structural support, while its waterproof stitching taping and glue pressing treatment keep out moisture.
The Latourreg Tipi Tents is incredibly easy to set up and can be done by anyone in 10 minutes. It also comes with two doors and windows for great views and excellent air circulation.
Additionally, its lightweight and portable design allows it to be folded into a convenient carry bag for easy storage and transport.
With its stability and central pole to support the whole tent, you'll never have to worry about strong winds or rain again! It's the cheapest of all the teepees listed here.
14. Winterial 6-7 Person Teepee Tents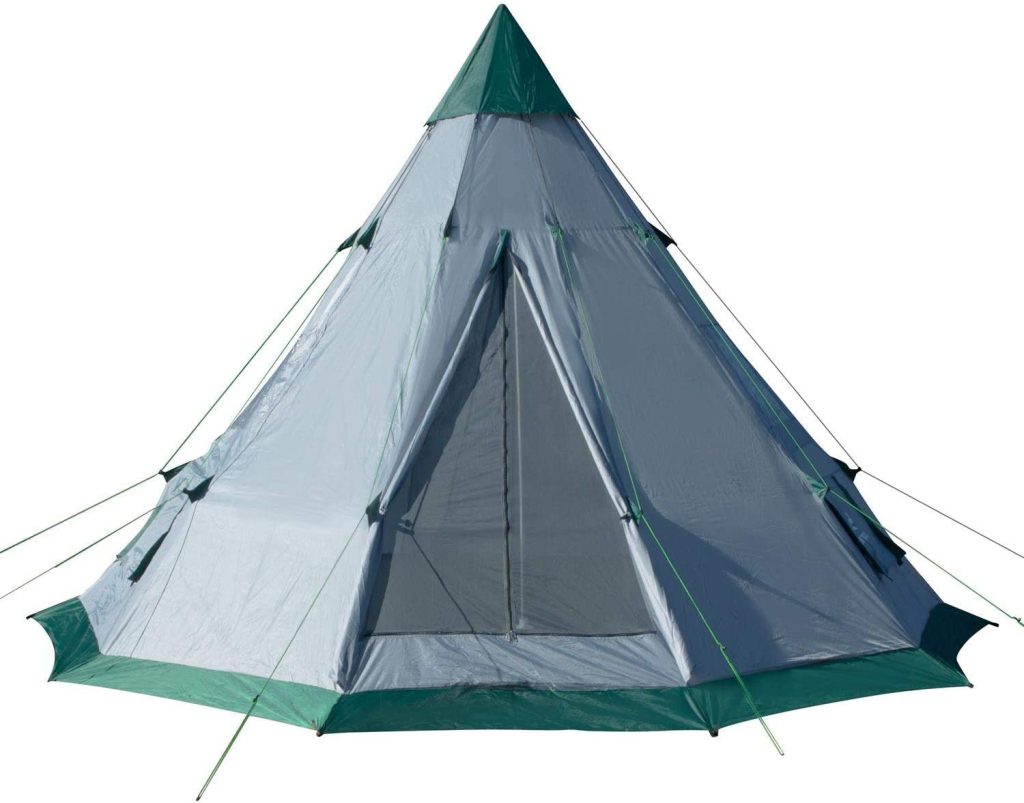 The Winterial 6-7 Person Teepee Tents is an ideal choice for family camping, backpacking, and all-around adventuring. This tent was designed with ease of setup in mind as it can be set up within 5 minutes with the single center pole, integrated guylines, and stake down all outside points.
Constructed with ultra tough and waterproof 210T polyester, waterproof stitching, and multiple air vents, it provides excellent all-weather protection.
This tent can fit 6-7 people comfortably or 2-3 people with plenty of room for gear and storage.
The Winterial Teepee Tents is lightweight at only 15 pounds which makes it easy to carry around. It comes with an oversized travel bag for convenient storage and transport.
It also features a mesh door and window that provides excellent ventilation while keeping pesky insects out.
With its heavy duty construction, space efficiency, and ease of setup, the Winterial Teepee Tents for camping in any weather conditions.
15. AFACUS 6-7 Person Teepee Tent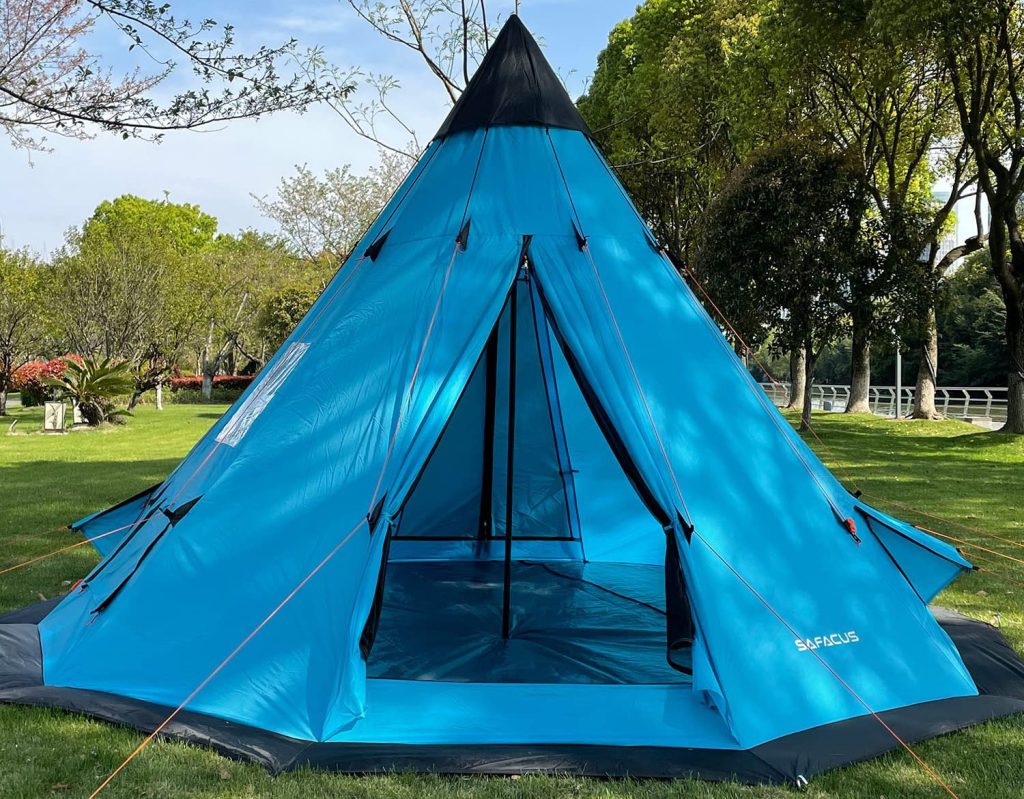 The AFACUS 6-7 Person Teepee Tent is the perfect choice for a camping experience that combines comfort and privacy. This tent has been designed with 210T polyester fabric and is fully weather resistance, with a PU 3000mm rating.
It boasts two doors with double layers to ensure ventilation and 68D/210T fabric to provide the best protection.
There are four PVC windows, each with a curtain, allowing you to stay connected with nature during your camping excursion and two top ventilation openings with mesh to keep insects away.
The total weight of the tent is 15 lbs and it can be set up in a few minutes. It's ideal for family car camping or at a campsite and can easily fit in 6 people.
So, if you want to enjoy the outdoors and experience a camping outdoor like no other, then the AFACUS teepee tent is the perfect choice.
With its spacious room, top notch protection and ventilation options, this tent allows you to enjoy the great outdoors in comfort and privacy.
16. DANCHEL OUTDOOR 4 Season Cotton Canvas Teepee Tent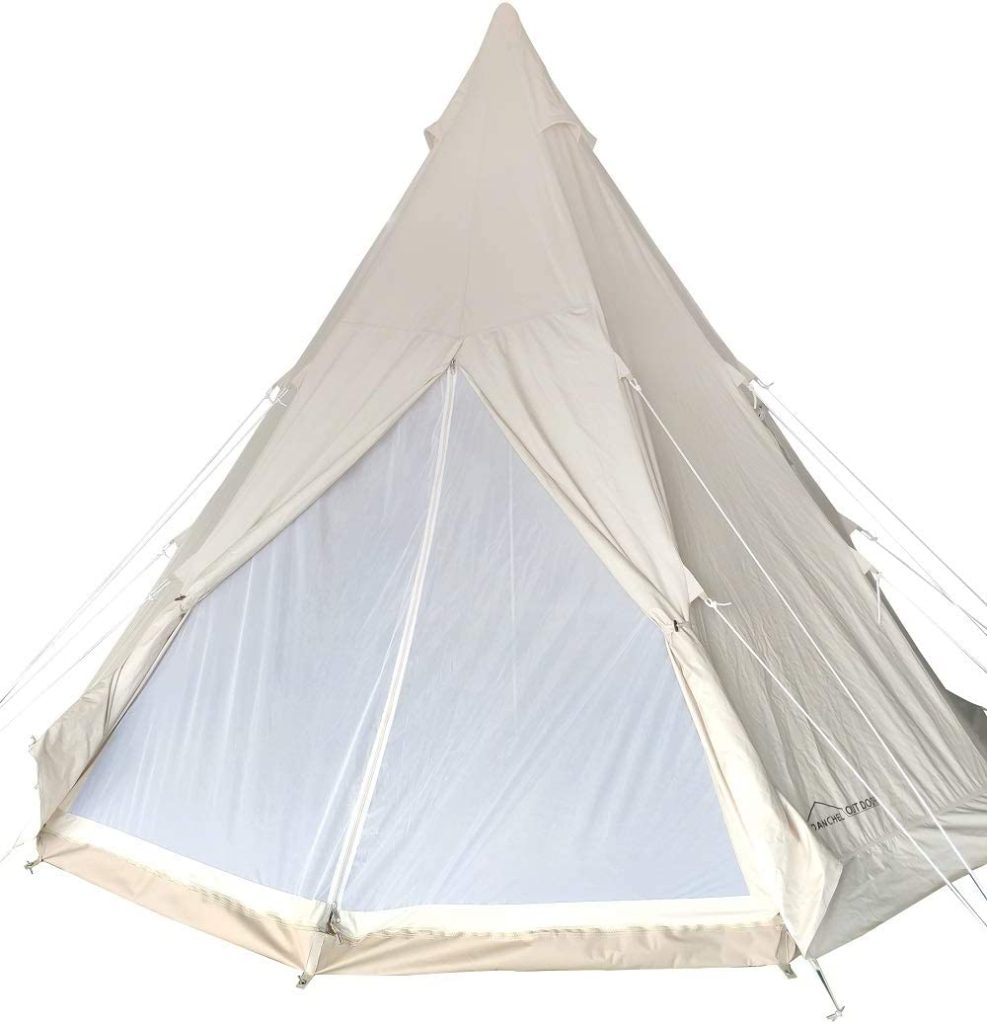 The DANCHEL OUTDOOR 4 is the best teepee tent for camping enthusiasts who want a more authentic experience. This spacious tent has enough room for four to five people and comes with a central pole, ropes, stakes, and an instruction manual.
The tent itself is made from a high-quality 285gsm full cotton canvas fabric which is resistant to tears and weather resistance.
The conical pyramid design of this tent makes it an excellent choice for those looking for protection from the wind, rain and snow. Additionally, the top layer of fabric reduces any damage caused by the central pole.
For extra protection from water splashes, this cotton canvas teepee tent also features a bathtub design that keeps water outside of the tent.
To further protect its occupants, the interior of this teepee tent also comes with a heavy duty 540GSM PVC zipped in ground sheet (PVC floor) that prevents moisture or debris from entering.
For campers looking to add some warmth to their setup, this particular teepee tent also features a modern chimney stove jacket design which allows you to insert a wood stove inside.
Overall, the DANCHEL OUTDOOR Tent is an excellent choice for those who want an authentic camping experience without sacrificing comfort with great rain fly. Not only does it offer superior protection against weather conditions but its modern chimney stove jacket design ensures that campers can enjoy added warmth on even the coldest winter nights.
Additionally, thanks to its lightweight construction and easy assembly process, this teepee tent is perfect for family adventures with friends alike!
Frequently Asked Questions
Q. Is a teepee good for camping?
A teepee is perfect for camping because it is lightweight, easy to set up, and provides a lot of privacy. Plus, they are often more affordable than traditional tents.
Q. How do you set up a teepee?
Setting up a teepee is relatively easy compared to some other types of tents. First, you will need to find a level area that is at least 20 feet in diameter. Then, you will need to drive the poles into the ground and tie them together with rope or twine. Once this is done, you can then drape the canvas over the poles and secure it at the bottom with stakes or weights. Finally, make sure that all of the seams are sealed shut so no water can get inside.
Q. What is the difference between tipi and teepee?
Tipi is the Lakota word for "house," while teepee is a word derived from the Algonquin language. Tipis are more conical in shape, while teepees are more pyramid-like. Additionally, teepees typically have an opening at the top, while tipis do not.
Q. Is a teepee tent waterproof?
A teepee tent is not technically waterproof, but it will keep you dry in most cases. The best way to protect your tent from getting wet is to seal all of the seams with a waterproof sealant before you use it. You can also purchase a rainfly to put over the top of your tent in case of heavy rain.
Q. Are teepee tents good in wind?
Yes, teepee tents are good in wind. In fact, they are often more wind resistant than general tents. This is because the poles are inserted into the ground and held in place by the ropes, which creates a stronger structure. Plus, the canvas is typically very thick and can withstand strong winds without tearing.
Q. What materials are used for a teepee camping tent?
Teepees are usually made from heavy canvas material which is waterproofed with wax or another type of waterproofing agent. The poles used to set up the teepee are typically made from wood or bamboo, and rope or twine is typically used to secure them together. In addition, you may need stakes, weights, or other tools to secure the tent in place.
Final thoughts
To conclude, the tents provided many benefits and ease of use. If you are in need of a tent to camp with providing protection from the elements, ease-of-use and lots more, one of these 16 best teepee tents is sure to meet your needs.
I hope this article will help you to decide which one is most suitable for your needs. Stay tuned, there are more camping related articles and reviews on the site.
Have a great camping trip!
You may also like: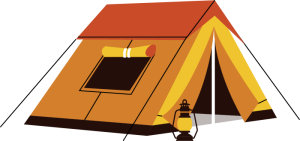 Outdoor Awaits is supported by its readers. We may earn an affiliate commission if you use our links to purchase a product(s) at no additional cost to you. To know more about us and learn how we tested the outdoor gear on our FAQ page.